About four years ago I figured out that ideas were moving into my brain faster than the hands could work them out. So I took the leap from hand quilting purist to machine quilting adventurer.
I rediscovered the piece picture below, in a cupboard recently. It was one of the first pieces I played with using free motion quilting. It was quilted on my Janome made Kenmore (still a great work horse machine at an affordable price – I own two) It was during fire season (A much too long season around here). Unfortunately it is that season again and every time there is smoke in the air and the sirens of fire trucks, a sad sick feeling comes over me. For me there is nothing better for feelings of concern or anxiety than to push a fabric sandwich under the needle and go! Gardening works too but it is too hot out there for that.
For this piece I used textile and acrylic paints on a piece of Pima cotton, creating a whole cloth. I don't remember having a specific idea but as I look at it now I think flaming trees must have crossed my mind. Next I went to the machine and free motion quilted all over the surface. Not especially good free motion quilting – remember this was a first attempt. I think I went into the room where my men were, held the piece up and said "I just did this, do you know how long it would have taken me to do this by hand?!" Needless to say I was hooked and now I primarily quilt using my Handi Quilter Sweet Sixteen (which I love!).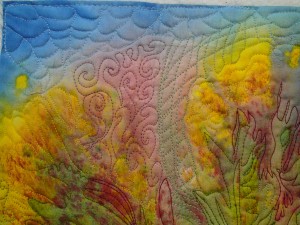 If you would like to machine quilt, whether following a seam, marked line or free motion, I would say just jump in. Don't worry that your stitch length may not be perfect. It doesn't matter unless you are entering competitions and if that is the case your stitches will become perfect the more you do and work at it. I hear so many people say "I want to machine quilt but…" What's stopping you? Just go for it. I'll bet you will surprise yourself and ask why you waited so long.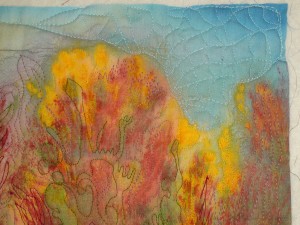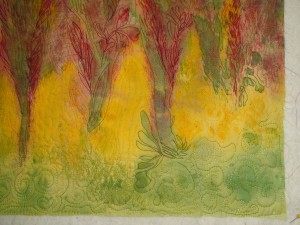 There is a wealth of information and many fellow quilters to encourage and address any trouble you may run into.
And don't worry, you won't be betraying the traditional quilter, there is plenty of room for all of us to make this world more beautiful in our own quilty way!
Quilting (and Painting) Away,
Ann