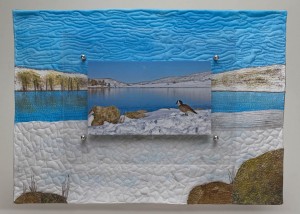 Thanks to all of you who attended the "Natural World Inspirations" opening reception at Mission Trails Regional Park on Sunday. It was so nice to visit with many of you!
The show runs to February 8, 2013, so I hope you get a chance to see it. It is a beautiful time of year to walk around the park, too.
Watch the video below for a sneak peek of the show!
Natural World Inspirations from Cameron Scott on Vimeo.
Quilting Away!
Ann