Beginning August 1st and running through August 10, 2012, visitors to the Alzheimer's Art Quilt Initiative have the opportunity to bid on and possibly own one or more of the wonderful small quilts created and donated by generous and talented quilt makers. I'm honored to say my little quilt "Swell" has been selected and will be in the August auction!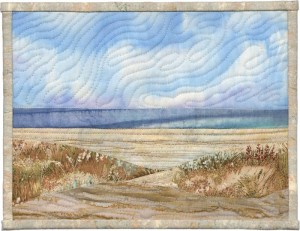 I hope everyone will stop by to check out all of the great quilts offered in this coming auction and learn the many ways you can help AAQI and the important research their dollars have helped fund.
And remember…Homes (and offices too) not only look better with quilts on the walls but they sound better too!
Quilting Away,
Ann