I was gifted an herb planter set for Mother's Day (from my Mister), and even though they were in a sunny window, it wasn't going well until I placed them outside in the (filtered) sun. At first I thought – In jars without drain holes, bad idea but… Now they are very happy and I don't feel like a plant killer! Hopefully the cilantro (the one I most wanted) won't bolt.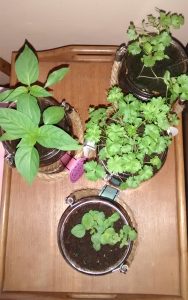 I'm not a watercolor on paper artist but because I made the mistake of leash training Kona, I seem to be spending more time out on the kitchen deck, so I decided to try my hand.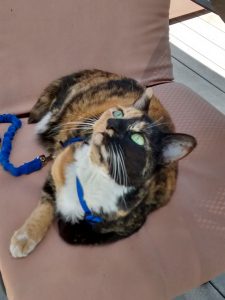 I admire anyone who can paint Plein Air… I'm intimidated by it!
Back in the studio where I feel more confident… Here is a little detail of my most recent Photograph on Fiber series piece. It will be on display at the San Diego Quilt Show August 30 (evening Preview Party) through September 3, 2016. After the piece professionally photographed I'll share it on the blog.
As I was writing this about twenty green parrots flew over… such a perfect ending!