Continuing to shelter in place here, though we are able to walk in the neighborhood, keeping our distance, of course.
Visions Art Museum's first member challenge, I mentioned in my previous post, will be over soon though member may continue to make Five Fiber Tags and post them.
These are the sample tags I prompted the members with.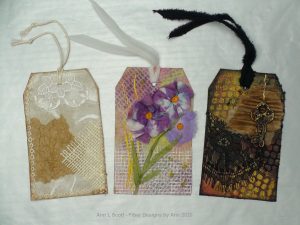 Here is the how-to demo for a fourth tag. I enjoyed making these tags but usually couldn't stop at five fibers!
I understand that many members may have been busy making masks and may not have had time to take on this challenge. The next VAM challenge will be developed by someone else and as I understand will be extra special, so I hope to participate and will share more about it when I can.
In developing these projects/challenges, we must remember that they are created with the understanding that the participants will be using what they have on hand, which I think, makes it even more fun seeing what they come up with.
I've finished the samples for the project that may be announced April. Here is a tease for that one…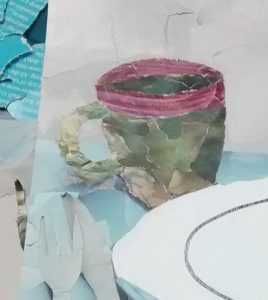 Thanks for stopping by and I hope you stay healthy and safe.