I'm very excited to have recently learned that my quilt A Clear Necessity, as well as the other 40 quilts accepted to the "Water is Life: Clean Water and its Impact on the Lives of Women and Girls around the World," exhibition, will be here in the USA in 2017 – Maybe near you! It is an honor to be part of this exhibition while supporting the message and doing what I love. Read below for more details about where in the world the exhibit will be on display.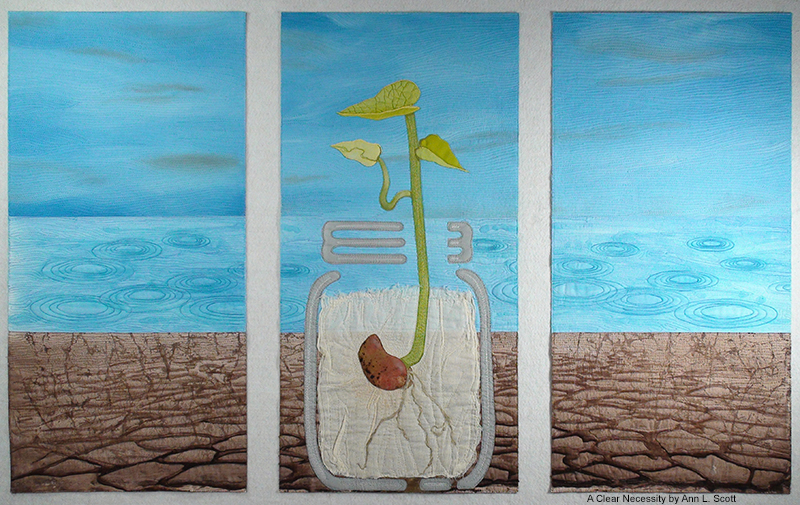 Press/News Release
Contact Information: Allison Wilbur, Quilt for Change, quiltforchange@me.com, (401) 316-6410
For Immediate Release
Local Artist to Exhibit in Geneva, Switzerland
GENEVA, SWITZERLAND — San Diego artist Ann L. Scott will display her quilt, A Clear Necessity, at the United Nations European headquarters building in Geneva, Switzerland in March and April of this year. Ann is one of 41 art quilters chosen to participate in the exhibition "Water is Life: Clean Water and its Impact on the Lives of Women and Girls around the World," which will debut at the UN's Palais des Nations under the auspices of the U.S. Diplomatic Mission to the United Nations in Geneva on March 22, World Water Day.
Organized by the Rhode Island non-profit Quilt for Change (www.quiltforchange.org) and Rome, Italy-based American Exchange Rome, "Water is Life" highlights the importance of consistent access to clean water in the lives of millions of women around the world and brings attention to the many countries whose populations face a struggle for clean water on a daily basis. Without clean water, millions of women are deprived of the opportunity to live, safe, healthy lives, to obtain an education, find jobs, care for their families, and contribute to their societies. According to Allison Wilbur, Executive Director of Quilt for Change, "'Water is Life' is the fifth major quilt show to be displayed at UN headquarters, where diplomats, policy makers and thousands of visitors to the UN's headquarters are exposed to the messages of concern and support for women's empowerment embodied in these quilts. Participating quilters are artists who bring their subject matter to life through their talent and compassion."
After its debut, "Water is Life" will travel to Rome for exhibition under the auspices of the U.S. Embassy in Rome in October, 2016. Crossing the Atlantic, the show is scheduled to be on display at the New England Quilt Museum in Lowell, Massachusetts, from February-April 2017, and then to tour at seven major quilt shows across the country with the Mancuso Show Quilt Festivals.
For more information on the exhibit, visit www.quiltforchange.org, and on Facebook at Quilt for Change/Quilt Challenge or http://www.american-exchange-rome.org/usunquiltexhibit2016/.
###