I just figured out a new way to cut my quilling strips! In a few of my online lesson videos I have demonstrated how I cut strips using two rules and a rotary cutter. Yesterday, a couple days after my Mister said in passing "You need a paper cutter" (while acting out the motion of the old time ones with the big guillotine style handle – that give me nightmares!), it dawned on me; I own a rotary flat bed paper cutter. I figured out how to add a stopper and now I can cut my treated fabric strips a little faster and easier!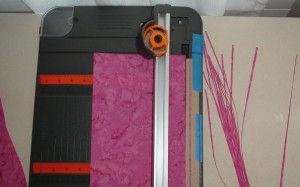 I'm working on some all white pieces (think bridal) right now but I'm sharing some color today. Making coils is one of my favorite things to do with my hand painted fabric and something simple to do when I have to sit still. This same technique may be used to make napkin rings, bracelets, and more.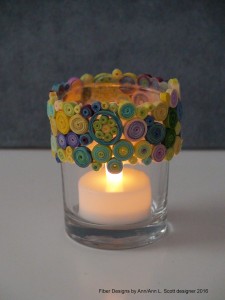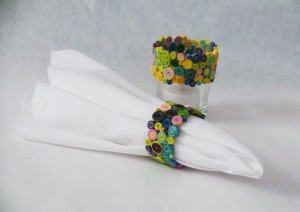 Someone asked why I coil fabric when I could just use paper and one of my answers is that because I cut the strips by hand they are imperfect and so each coil has a more textured surface than paper and I love that.