I'm making waves on fabric, with Caran d'Ache Neocolor ll wax pastels that is! I use these wax pastels a lot and really like what can be created with them.
I was using them to make landscape background elements but I wasn't using them alone… under my fabric I placed a piece of very course sand paper. As I was working it occurred to me this technique could work for frothy waves!
So I played around, liked the results, and published a very short demo video –
After the video I made a couple more pieces. These are tiny (4″ x 5″) but I'm sure the same technique could be used on a larger scale. The wax does require heat setting, and depending on the amount of wax rubbed onto the fabric, may still rub off.
Caran d'Ache does/did make a fixative (most likely not intended for wax pastels used on fabric), but it is pricey, due in part to extra shipping as it is considered hazardous.
On the piece below I gently foam brushed a little regular gel medium over it. It did smear/blend the pastel a bit as I brushed and lightened the intensity of the white but I'm okay with that. Once dry it did work and the pastel no longer smeared. I think a little hand stitching to add white highlights would work but it may leave holes if machine stitched.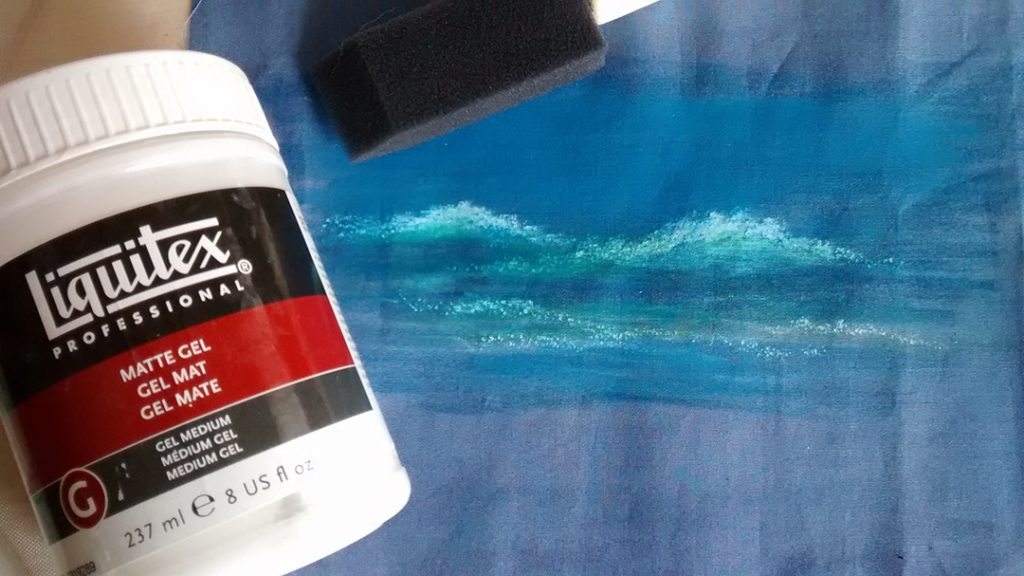 This one is wrapped around a small panel canvas. I think set on a little picture stand/easel it could be a neat display for someone who love the beach! Shells, charms, or beads would be nice additions too. As usual – endless ideas!