This is our ten year old kitty, Kona in her box (which measures 8" x 11"). The box is smack dab in the center of our so called "great" room, on a small area rug. Despite the fact that she has cat beds on just about every piece of furniture in the house she has decided this is her box, her bed, her raft! So it remains there to be kicked and tripped over, every time one of us walk through the room.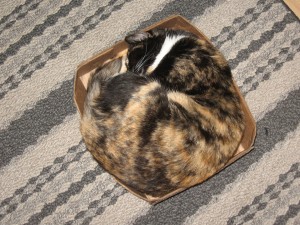 Today when I revisited this photo I noticed all the texture: the cardboard, the fur, the weave of the rug and the pattern, even the tiny corner of wood… all so tactile and inspiring to a fiber artist.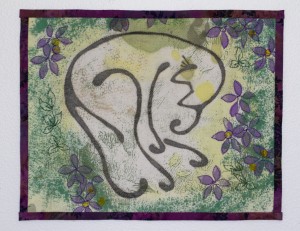 Many of us have made quilts inspired by our cats. When I think of cats and quilts I can't help but think of quilt artist Ann Fahl 's quilts featuring her cat Oreo.
Ann Fahl writes "Summer Sanctuary is a quilt when first completed didn't include Oreo. She was added later!"
Another of Ann's quilts – Under the Giant Coneflowers, is one of my favorites. Ann's book, A Black and White Tale, includes all of her cat pieces. I hope you will visit Ann Fahl's website and her blog to read more about her books and to see her incredible body of work.
I own two of Ann Fahl's free-motion thread play books and have admired her work for a long time. I thank Ann for giving me permission to share her art.