Previous post I shared the palm tree from the #Needlevember challenges; here is the free-motion video . I've had fun stitching everyday this month so far. It's been a challenge first drawing something and then looking at it for reference while stitching on my machine. But I must admit the hand embroidery pieces have been a good speed (slow) for me at this time.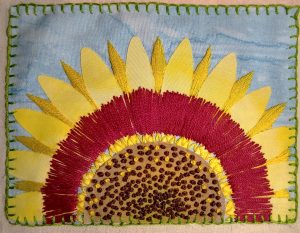 I've also produced a new video challenge project for Visions Art Museum member challenge titled: Fall Flag panel.
I hope you are staying safe and healthy.
As always, thanks for stopping by.