I still get excited every time I get a chance to paint fabric. After I figured out that I could paint my own sky fabric I wanted to try more fabric painting and surface design techniques. Now, years later, I still want to learn more. Here are a couple older pieces that have skies I'm quite pleased with. Sadly they would be impossible to recreate by hand!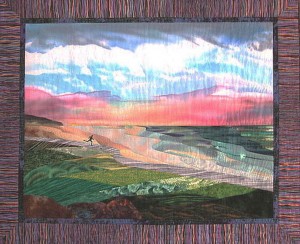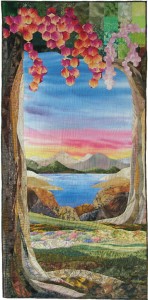 Speaking of skies… Below is the view from our dining table at a restaurant on our recent trip to Sin City. We were indoors. I thought it was so nice of them to bring a little nature into the grandiose, man-made, decadent surroundings. I couldn't help but enjoy that sky since it was over 100 degrees outside!
Muraljoe is one of my favorite muralists and — though we can learn a lot from people who paint scenes on walls and ceilings — fabric is a different animal and there is definitely a learning curve! Have you conquered the curve? Do you paint fabric?