Well, I thought about doing this post yesterday with the title Tension Tuesday but Warm-up Wednesday seems to have a better ring to it!
I test tension and warm up for free-motion thread play at the same time. After testing my tension and ending up with this flower, I decided I needed to do my machine's tension test on a solid piece of fabric (maybe a painted sky scrap?) so that I could add to it every time I tension test, creating a picture (which I may paint in the future). I know the best way to test the tension is sewing loops and straight lines but I can't seem to help myself!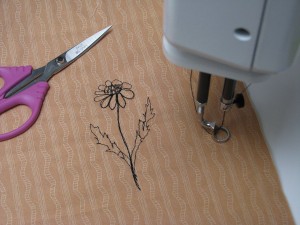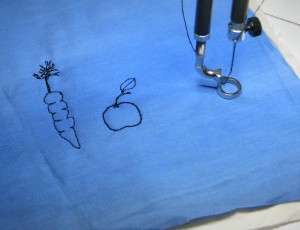 I recently learned on LuAnn Kessi's blog about a tension gauge, but decided to hold off on buying one since I seem to be doing okay on my own. Have you used a gauge for checking sewing machine tension?
I mentioned it before – Because I change thread often while working on art quilts I have gotten pretty fast at adjusting the bobbin tension on my Handi Quilter Sweet Sixteen. I had a student in one of my workshops say that she uses only one kind of thread so her machine never gives her tension trouble. I think in some cases that is a good idea, but I like to change up the thread to get different textures. It also helps me remember to clean the lint out.
I wonder if some day sewing machines will just "feel" the thread, automatically make all the adjustments so all sewing goes smoothly!