We live in a state that is sadly very much on fire. I have family and friends who have lost everything in past fires. It's the one time I appreciate that I live in a built up area of the city, which (usually) makes it less likely fires will be big and bad. The fact that we live a few blocks from a fire stations helps too. I'm so thankful for fire and recuse workers.
But to get back to happier thoughts… I'm working on an altered bottle with a seashell theme at the moment. I'll share more pictures, maybe video later (hard to have gesso and gel medium hands and work the video equipment!)…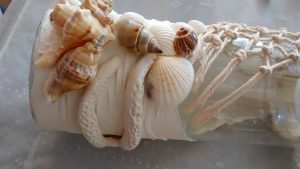 But for now here are some images of my first one, sort of steampunk – Beer, golf, and dogs themed because my son recently produced a fundraising video for a soon to open brewery with those themes.
Being a fiber artist I did use – fabric (greens are faux suede with real sandpaper sand trap), and textiles (leather scraps for collar and golf bag strap), produce bag (net), fiber (Unryu paper for good background texture), and paper clay (for the battered golf ball crown). Added metal odds and ends I had around the house/shed.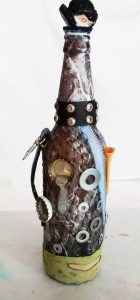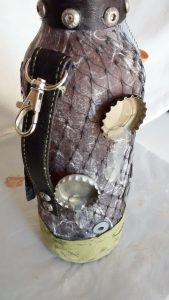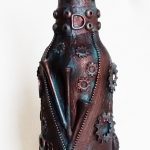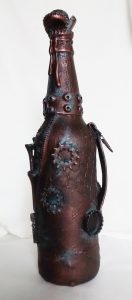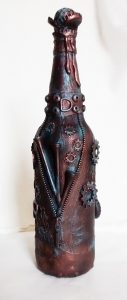 This was a challenging but really fun project and I'm happy with the results. Have you made any type of altered bottle or jars?
Thanks for stopping by.