I walk every morning and take quick shots with my phone. I'm happy when I catch a bit of nature in a neat composition. I spotted this face down, soft yellow flower and didn't really see anything else at the time but after viewing the photo on the PC I noticed the texture of the walkway and the stress crack that has collected tiny bit of plants and dirt. All that texture sends me to a happy, inspired place!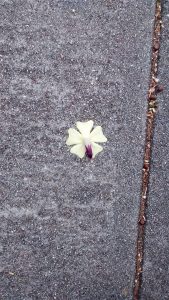 And sometimes the inspiration is right in my own garden as with this Golden Dewdrop/Duranta erecta, flowing through our fence.
I'm participating in the most recent Visions Art Museum Member Challenge and I can't help but think that the cascading Duranta erecta inspired my composition. The theme is "Surface Design" which, to me, could mean so many things, unfortunately I didn't have enough time to create a new fabric. Since I have been the fabric coiling queen lately I decided to make an art quilt using some of the coils… It is titled Fiber Flow and it will be on display at VAM from July 16 – October 2, 2016, along with many awesome art quilts and textile pieces.