We were hit with a heat wave this week but there seems to be a break today, unfortunately several fires have broken out around the state and county. Knowing how these fire can spread and the damage they cause, especially with the winds we have been experiencing, is always frightening. I live in an area that has remained unscathed by fire but I have friends and family who have lost homes (and pets) in past fires. I'm thankful to the firefighters for what they do every day and admire the strength of those who rebuild and move forward.
On a happier note – Recently I received a Machine Quilting Unlimited magazine in the mail and noticed a banner at the top of the cover that read "Water is Life – Exhibit at the United Nations. A few of the quilts from the Quilt for Change – Water is Life exhibit are featured, including my a triptych Clear Necessity.
So, I'm trying to be careful and not waste too much water while I paint more fabric…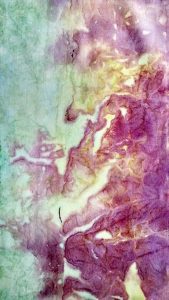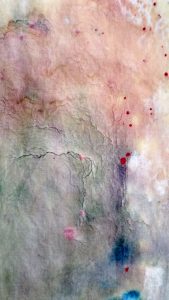 The left piece was started by painting textile paint wet on wet, then slightly folding and left in the sun to achieve a sun print (the "rays"). After it dried I did a rubbing on a homemade foam leaf stamp using wax pastels and then sprayed the entire piece with water to soften the design. Center piece was tilt painted (Online lesson at Curious.com) and the piece on the right was made by laying a piece of fabric onto a plexiglass sheet that had acrylic paint pooled and dripped on it. Though the acrylic paint ended up thin enough to stitch on (video coming soon, I hope) Next time I will use textile paint so that the hand will remain softer.
If you paint fabric I would love to see your designs. I'm always surprised and usually please when paint meets fabric!