For those of you who will be in San Diego, I will be teaching a class on Thursday, June 29, 2017 at Rosie's Calico Cupboard quilt shop. The class title is "How to Make a Fabric Postcard." We'll use commercial fabric to make a basic postcard card and we'll play with some surface design techniques to make our own fabric for another postcard.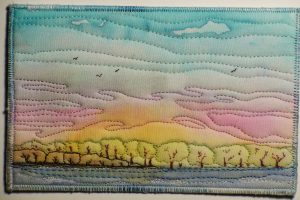 Class cost: $45
TIME: 9 AM to 4 PM
You will need to bring a sewing machine in working order and the know-how to operate it. The machine needs to be able to make a straight stitch, zig-zag and/or decorative stitches, and free-motion quilting (i.e. feed dogs drop (or covered) and darning/hopping foot)
Complete supply list will be emailed after confirmation of payment. Payment must be made via PayPal (PP account or credit card). NOTE: If the link doesn't work it probably means the class is full. If you would like to be added to the waiting list for a future class, please email me.
Payment must be made by June 25, 2017. If for any reason you cannot attend the class I must be notified via email on or before June 26, 2017 in order to receive a refund. After June 26, no matter the reason, no refund will be given. I reserve the right to cancel the class due to illness or personal emergency. If I have to cancel the class you would receive a full refund (or the option to be added to a waiting list for a future class).
Though this class is not affiliated with San Diego Quilt Show, their theme this year is Postcards from San Diego. If participating in the class encourages you to make and enter a fabric postcard in the challenge – that would be great!
Please feel free to contact me with any questions.