Little announcement – I no longer have a shop or pieces for sale on my website. I'm thinking about life and business and trying to work things out. I still have a lot of art that I would happily sell but for now my website isn't the place.
Some if not all of you know making and teaching miniature fabric landscapes was how my business really began. My landscapes were featured on Lap Quilting with Georgia Bonesteel, long ago. In many ways I have wandered far from miniature landscapes but they are still a passion for me. If we were in a different (safer) time I would happily teach mini landscapes again. I loved seeing how the students would make my pattern their own little scape just by the fabrics they selected. For example – the two below are the same pattern but have totally different look and feel.
I recently rediscovered this poppy foreground fabric landscape and thought it would make a nice giveaway item. See rules below. It is a top only ( 11 1/4″ x 9″) but could be finished as a quilt or faced and framed, maybe added to a tote bag or larger project.
It is an older piece and it must have had a border attached that I removed (no memory of that!), because there are stitching holes along the outside edge. These photos are from my phone and photoshopped, so that's why they may look slightly distorted.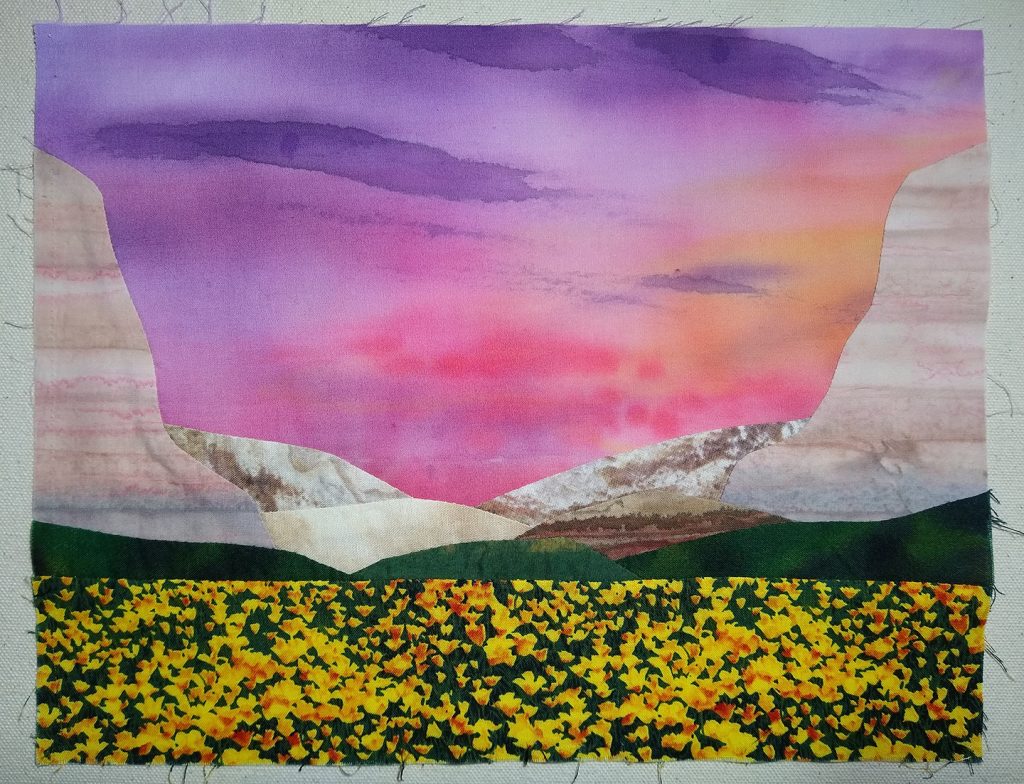 One reason I know it is older is because the sky isn't as good as it should be. Also, I wasn't using silk thread and I tied knots instead of back-stitching.
Landscape back…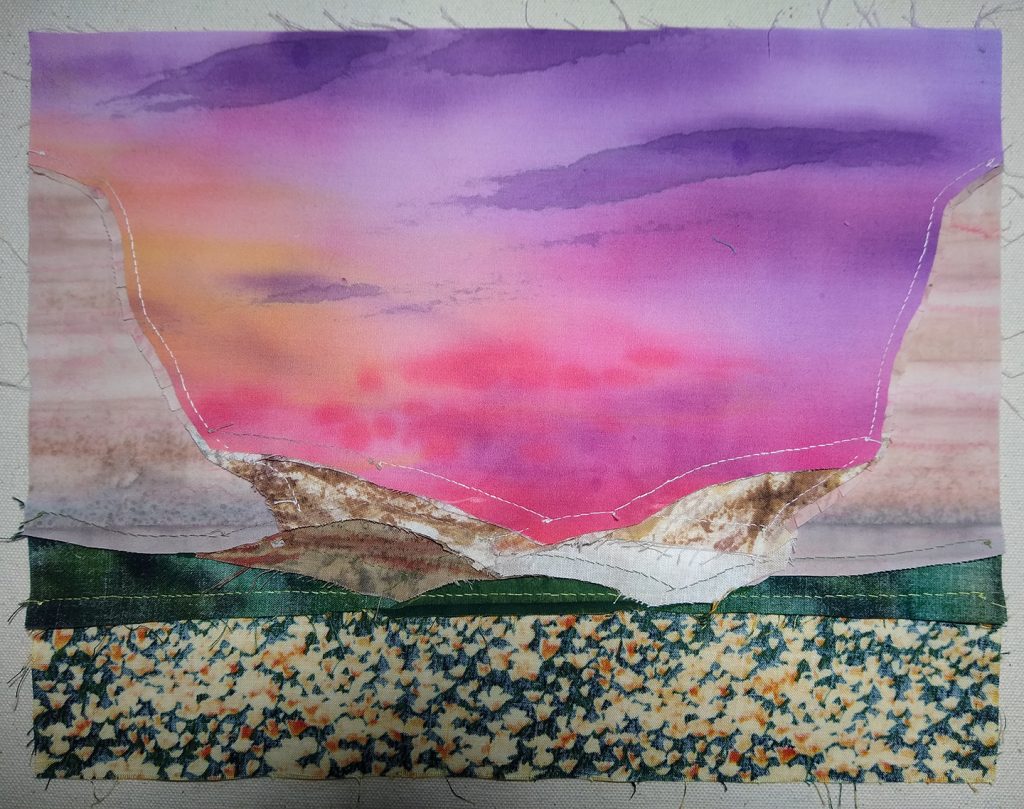 Some fabric landscape making tips – Whenever possible press the landscape on the back/face down because the iron can leave shiny marks and I think, the edges of each piece just look better not hard pressed from the front. Also, check for shadow through as each piece is appliqued and BEFORE adding borders, binding, or facing.
To enter: You must live in the US only (no international entries). One entry per person. Sweepstakes/giveaway begins January 19, 2022 and ends at 9pm (Pacific Time) January 24, 2022.
Leave a comment/reply on this blog post that you would like to be entered for a chance to win the Miniature Landscape (top only) and include your first and last name (or last initial).
On January 25, 2022 I'll use a random drawer and announce the winner on my next blog post.
Winner will email me their mailing information and I will mail the ­­­­­­­­­­­­­­­­ Miniature Landscape (top only) ASAP. If I don't hear from the winner within five days of drawing date, I will run another random draw. Good luck!