I'm recovering from the quilt show where we had near 400 quilts in the general display and over one hundred quilts for sale in our Quilt Sales booth. I had help from some awesome volunteers, members of SDQS (who are also volunteers!), and from my patient husband (who has helped me with this show for many years). Quilts were on the drapes, on the tables and on hangers… It was a lot of quilts! About a third of the quilts and a pillow in this booth sold.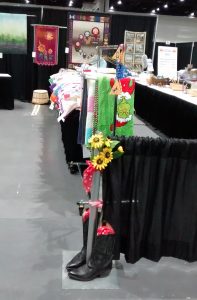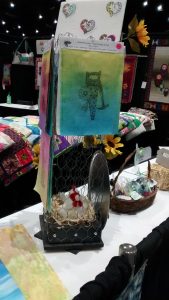 Because the theme for this show was Wild, Wild West, I designed a turning display rack using chicken wire; my husband build it to display my "For Sale" artwork. Then our daughter said…"You have to put a chicken in there!" so… As with the quilts, SDQS receives a small percentage of any sales.
I'll share some of my other items in future posts but for now here are my coiled fabric bottle cap magnets which are located on the metal circle on the chicken wire display . I had a bunch of fabric coils left from other coil projects and this was a good and fun way to use them!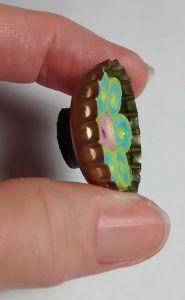 I was pleasantly surprised to have won a second place ribbon for a piece I entered in the "Hat" block challenge. I'll share that and my challenge quilt in the next post.
Until then, quilt away!