I remember about ten or fifteen years ago getting rid of my hand embroidery materials/tools. When I was young I hand embroidered everything! But then I became a quilter and wouldn't be creating hand embroidered piece anymore. Fast forward to 2017 and I was buying back all the tools I use back then. I think now that I primarily machine quilt I'm enjoying the comfort of the slow rhythm of hand embroidery once again.
After embroidering on a quilt (I'll share in a future post) for the San Diego Quilt Show quilt challenge ; the theme being "Wild, Wild, West" I kept going and made this hat for the block challenge.I first draw the hat on paper, then scanned it into Adobe Illustrator, made it a vector and resized it. I applied white fabric to an 8.5″ x 11″ piece of freezer paper, pressed very well and sent it through my laser printer. I heat set it and hooped it up.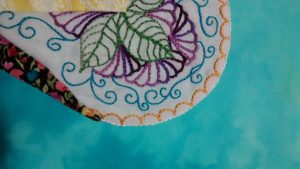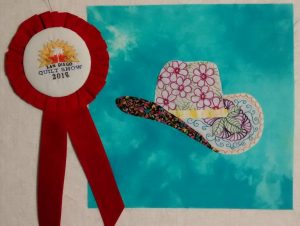 When the embroidery was finished I hand appliqued the underside and the entire hat this a pretty mottled "batik." And to my surprise I won a Viewer's Choice second place ribbon!
I'm going to ask our historian for a photo of the exhibit; I believe there were fifteen hat block entries… I did a quick walk-by but was pretty busy and didn't see most of the show and so didn't take photos outside my booth.
Do you hand embroider? What floss do you used and do you wrap your hoop?