Just for fun and inspiration! Enjoy.
I'm behind in blogging but I have been spending happy hours (days actually) in the studio. I remember earlier in the year when I fell into a bit of a slump but now I have more ideas than I could ever have time to create (must be a spring thing). I have enjoyed a few weeks of tile mosaic work but now I'm very happy to be working in fiber and paint again…it is so much lighter than tile!
Here are a couple whole cloths. I'm not certain how they will be finished yet but I know I'll think of something!
I'm excited about going to Road to California quilt show this weekend. I know of several local quilters who have pieces in the show – Congratulations to each of them!
One of my main goals is to test drive the HQ Sweet Sixteen. I'll let you know what I think.
The little landscape below is "Distant Clearing" and it is the first miniature landscape I ever made. I made it in a Continuing Ed class taught by the wonderful Peggy Martin (many moons ago!). It was a fabric postcard class but I decided to do my own thing. It was awarded third place in a contest for and was published in Miniature Quilt Magazine (no longer with us). It measures about 12″ x 9″ and is hand appliqued and quilted.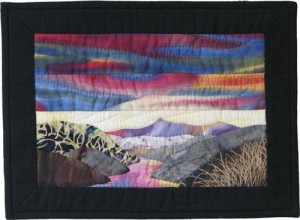 I'm off to sew sleeves and binding. Quilting Away, A