Not too long ago after spending some time (quality time!) walking through the wonderful exhibits at Visions Art Museum, I went for a stroll through the verandas at Liberty Station and noticed a light and airy shop that had yarn, beautiful yarn. I walked in and was greeted by Sara, the owner of Apricot Yarn. I told her I had just been down the walkway to VAM, she asked if I was a quilter and I said that is where I started but then I had to confess; I'm a fiber artist who can't knit and can only crochet a chain! Then I asked Sara if she carried roving. She said "No, but maybe they would in the future." As I was drooling over a skein of thick, rich multi-colored wool and a beautiful knitted cowl neck warmer made from it, she added… "Some people use that to do felting." I said "I do felting!" I'm now the happy owner of that gorgeous skein and YES, it can be used for felting!
I'm remembering that my grandparent had spinning wheels and probably card brushes as well, but I never thought anything about it when I was growing up. I think my cousins have the spinning wheels now.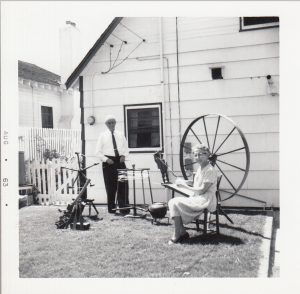 Anyway, it occurred to me that in my dusty dancing shoe box there was a suede brush… So I cut several, approximately, 8″ lengths of the yarn in the colors I wanted. Laying them on my design table, I raked the suede brush over the yarn. Combing one piece at a time worked best because there wasn't a card brush or carding surface underneath. Now you may be thinking that's a lot of work when a person could just buy roving, but I enjoyed every second of touching the yarn.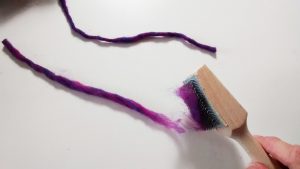 I must note here that, of course, this project is not for anyone with wool allergies. Also, using the proper carding brushes would be a plus because I think there would be fewer tiny fibers escaping and proper carding would have made the fibers felt together even better. I made one felted soap and love how it turned out. They make a very fast project and nice gift and if you are planning an art bazaar type sale they may be a good item for that. When I have the proper equipment I plan to make more and try some needle felting too. If you're a yarn lover I would encourage you to check out the Apricot Yarn shop; Oh, and if you are or will be in San Diego, they have classes too!