I hope everyone is healthy and safe.
I have painted the fabric and taught the class and I still love making my painted fabric leaves. I have stitched and beaded several and I'm offering a few for sale. I will be posting them to my Instagram page but decide to post them here first.
Each leaf has the painted fabric top that is raw edge, a Timtex center layer (which may be showing through the beads), and a felt back.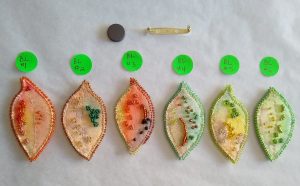 Unfortunately, I still don't have the store open on my website but if you're interested in purchasing here are the details…
Please leave a comment with the leaf/leaves # you would like to purchase and I will contact you via email to let you know if it is still available. After payment is received I'll ask if you would like a pin or magnet on the back. Price $18 each, free shipping, payment accepted via PayPal only, and no international sales.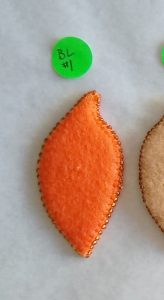 I've been going through cupboards and drawers finding all kinds of treasures (one person's treasure…) and have come to the reality that I don't need to keep a lot of what I have rediscovered. So I plan to have some giveaways in the future.
Thanks for stopping by and warm wishes to you where ever you are!