I re-purposed several bookcases when I moved my studio back into my home. Bookcases are great because they are narrow and so don't take up a lot of floor space (mine even have doors) but most standard storage boxes either don't fit or don't use the shelf space fully. My solution was to design and construct boxes to fit the way I wanted to use the space. The boxes are good for storing fat quarters but most any size yardage can be folded to fit. They can be stacked two high and they have little windows so I can quickly see what color is in each box. They can be easily pull out when I want to go on a serious fabric search.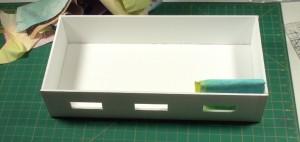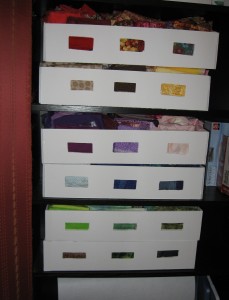 These boxes fit a minimum 22″ wide shelf. I have them in a 33″ wide bookcase so I have room along the side of the boxes for a few other items. I'm planning to make some more boxes to fit in a 16″ x 11″ bookcase which is filled (and a mess) with landscape and painted sky fabric. They could be made just about any size, though, I would not go bigger than the one in my lessons (viewable on Curious.com and – YouTube) because foam board and hot glue are only so strong and fabric can get heavy!
If this helps you better organize your fabric I would love to hear about it… and remember these boxes could be used to hold other items too.
Stitching and Painting Away, Ann