In my continuing quest to find any art I may be able to do during my recovery I have discovered many limitations. While cutting out these small hexagons, first with scissors and then rotary cutter, I was pushing and moving in ways I shouldn't have been. Oh, boy, did I suffer the following day. Lesson learned.
Anyway, this is what I made. Thanks to my funky embroidery hoop stand (made from a broken lamp, it has been a great stand and the price was right!), I was able to do a bit of embroidery on the (raw edge) hexagons to hold them. I would have liked to embroider around the all the edges but sadly I couldn't. They're far from perfect and fraying but I'm fine with that.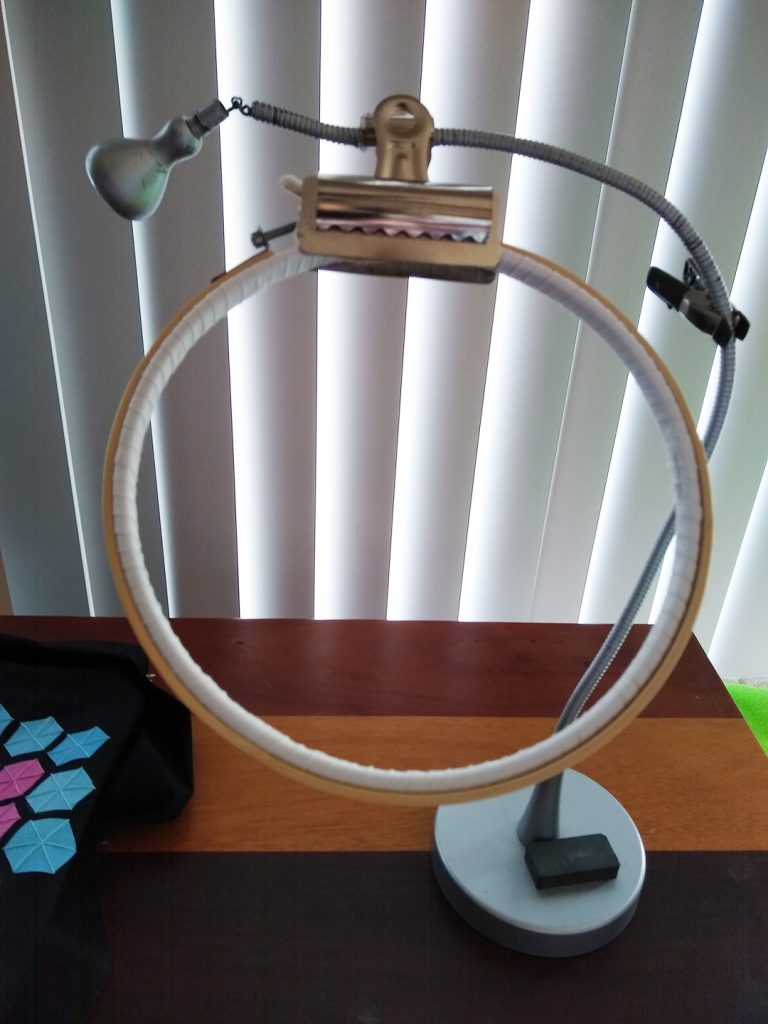 I used a glue stick to hold them in place, which didn't work very well. I didn't have applique glue and I knew I wouldn't be able to embroider through fusible at this time.
I'll be seeing if I can still paint fabric and let you know how that goes.
The giveaway… A box of colorful hexagon patches – at least 200. They are approximately 1.75 inches side to side, 2 inches point to point, and each side is 1 inch.
Entry and rules –
The Hexagon patches sweepstakes/giveaway begins Wednesday, March 10, 2021 and ends at 4pm (Pacific Time) on March 16, 2021.
To enter: You must live in the US only (no international entries). One entry per person. You must leave a comment on this blog post stating you'd like to win the Hexagon patches and include your first and last name (or last initial). Subscribe to my blog to get the notification post with the winner's name.
On March 16, 2021 I'll use a random drawer and announce the winner on my next blog post. Winner will email me their mailing information and I will mail the ­­­­­­­­­­­­­­­­hexagon patches ASAP. If I don't hear from the winner within five days of drawing date, I will run another random draw. Good luck!