I'm happy to say a great group of enthusiastic students worked on their own hummingbird notecards in my class, at Visions Art Museum, this past Sunday. Here are some of their works in progress. I thank them for allowing me to share…
In keeping with the hummingbird theme the giveaway for October is one set of four fabric/fiber hummingbird notecards. They will be new, not ones that I have posted anywhere. Here are examples of some of my original hummingbird notecards.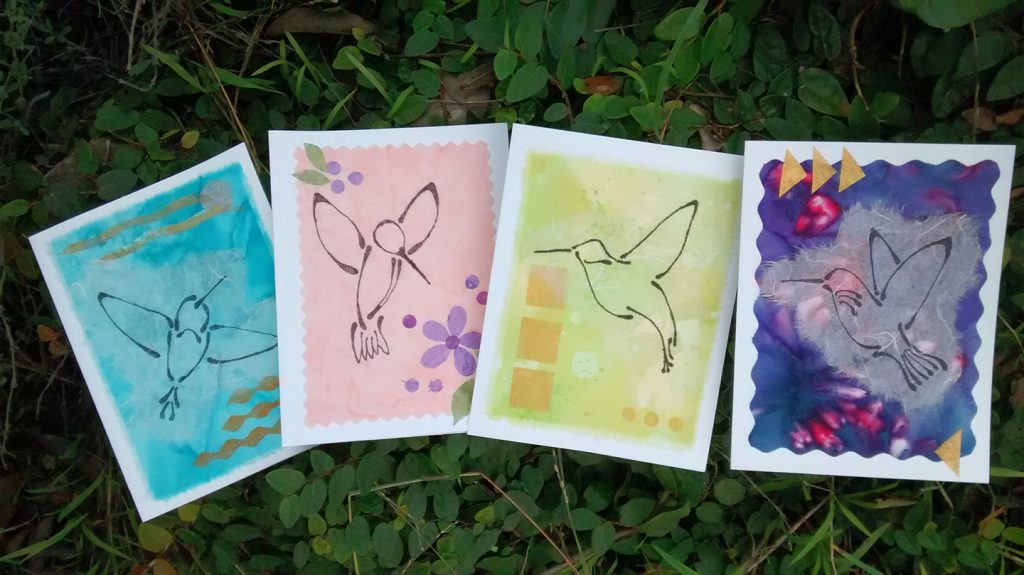 If you haven't already, you may want to subscribe to my blog email list so you won't miss the giveaway winner announcement.
Rules and how to enter –
Sweepstakes/giveaway begins October 6, 2021 and ends at 9pm (Pacific Time) Oct. 23, 2021. You must live in the US only (no international entries). One entry per person.
Leave a comment that you would like to win the hummingbird notecard set, and include your first and last name (or last initial).
I'll use a random drawer and announce the winner/s on my October 25 blog post. Winner/s will email me their mailing information and I will mail the ­­­­­­­­­­­­­­­­hummingbird notecard set ASAP. If I don't hear from the winner within five days of drawing date, I will run another random draw. Good luck!