There's always a starting point and in quilt making it often begins with a main fabric. When I was working on my Photograph on Fiber series, rather than start with a main fabric and grab other fabrics to coordinate with it, my starting point was an actual photograph. I would decide if I'd be echoing the photo or extending the background out from it. I'd think about fabrics and how I could paint, stitch, and maybe add applique as well.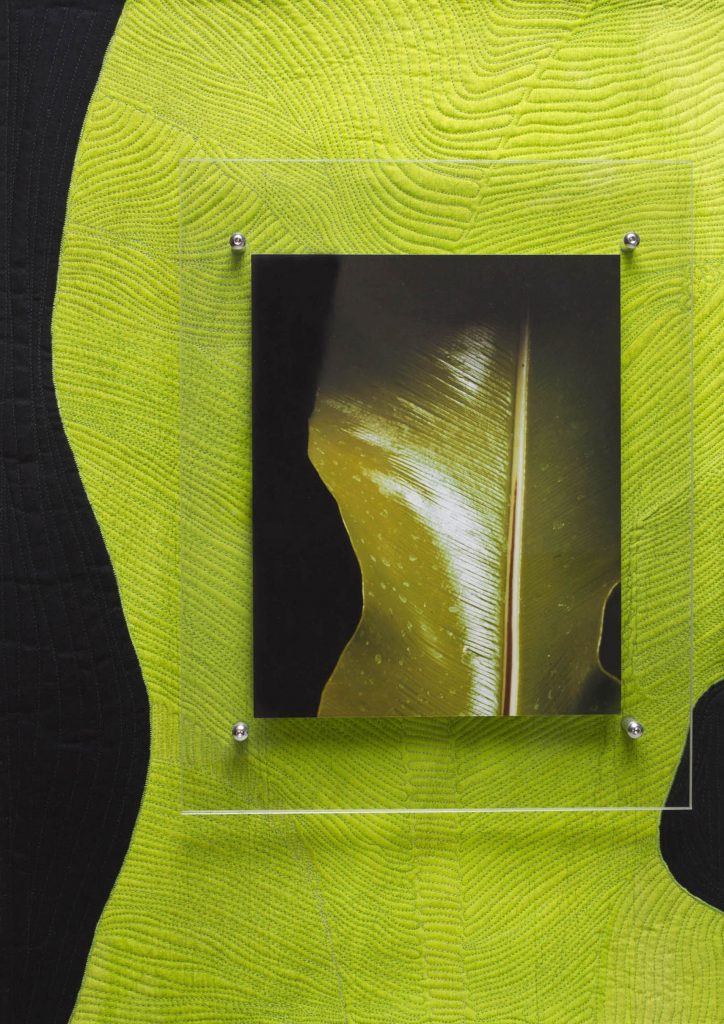 This series is comprised of photographs that have been applied to plexiglass and mounted on spacers 3/4″ above the fabric/fiber background and through a board, then wired for hanging.
Most of the photographs were taken by son who thought I was nuts when I told him I wanted to use his actual photographs (not printed on fabric) in my fiber art. I had to make a tiny prototype for him to "get" it. And then he really got it!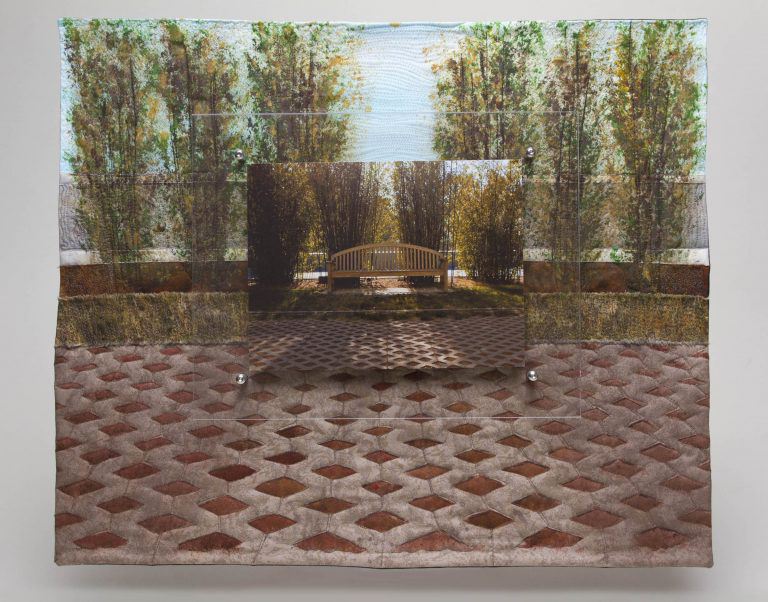 Photograph of the very textural Rex Begonia.
The commercial fabrics in Rex Begonia are the black border, the black and white swirls background, and dotted fabric which I added paint to.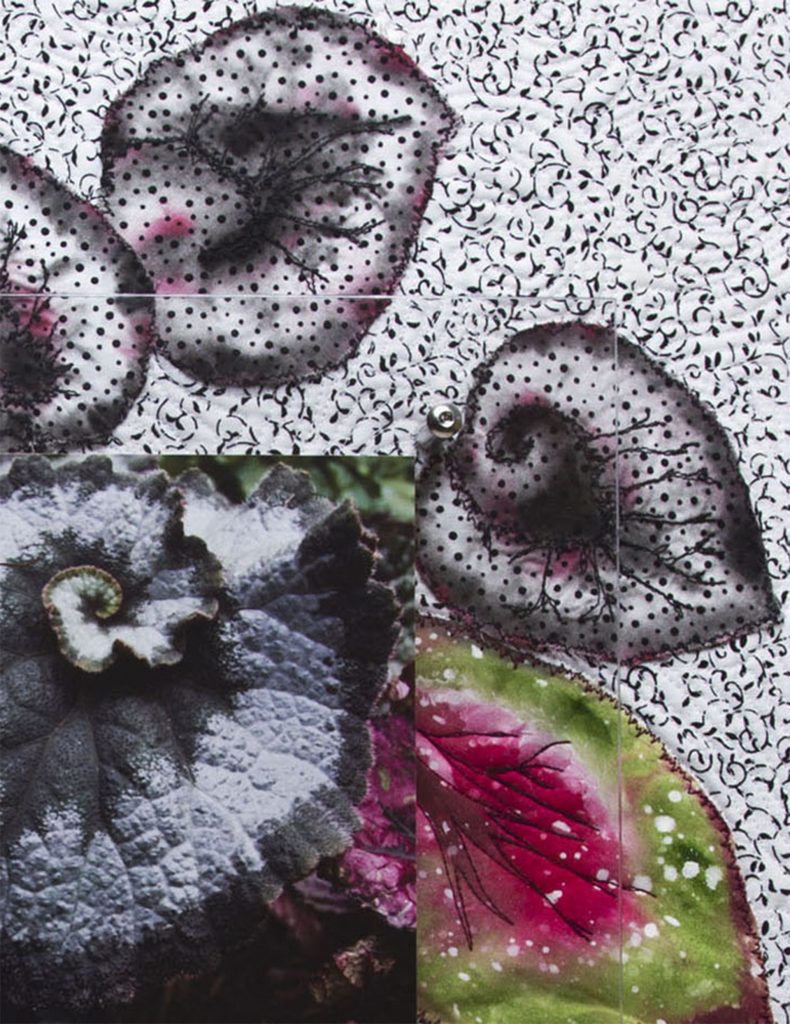 Many of the pieces were exhibited in a number of venues, including a solo show at VAM in 2013. I was asked over and over about the process and so decided to developed a way to make a Photograph on Fiber piece without the plexiglass; a much more doable project and one that I could teach. The photo is still above the fabric/fiber but, in this much easier process, the piece is placed in a frame, (sort of a shallow shadow box but not as deep), and the photo is mounted but doesn't touch the glass.
This photo, taken by my cousin, was the starting point for the three (wip) pieces below. Notice that there are actually more options than only echoing and extending, all to showcase the photo.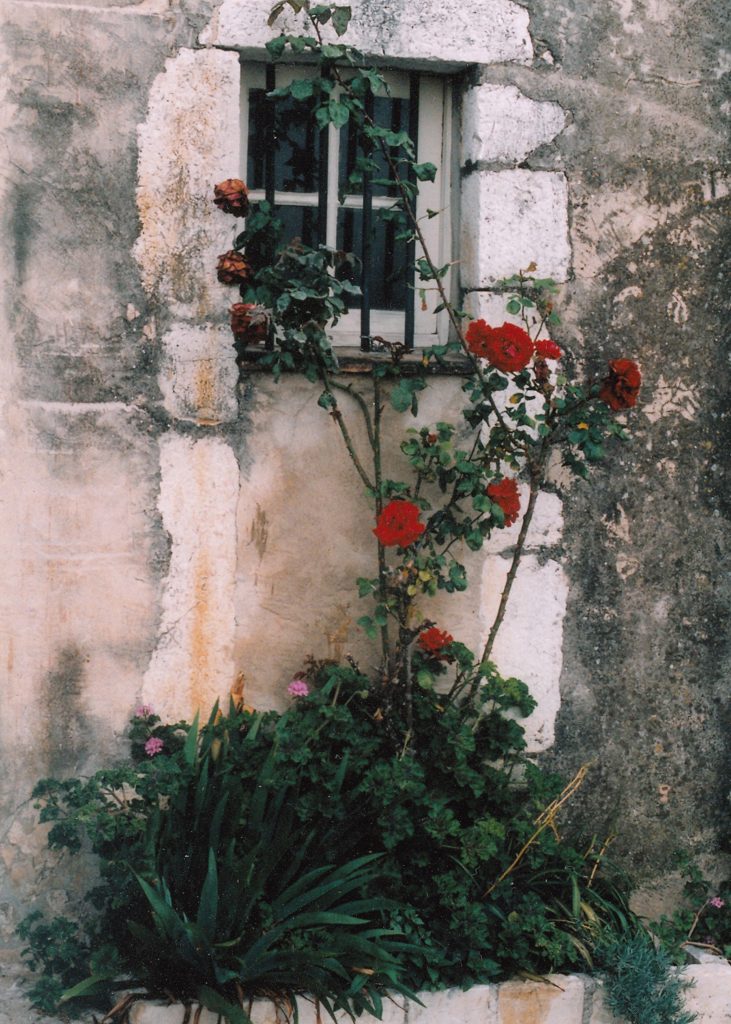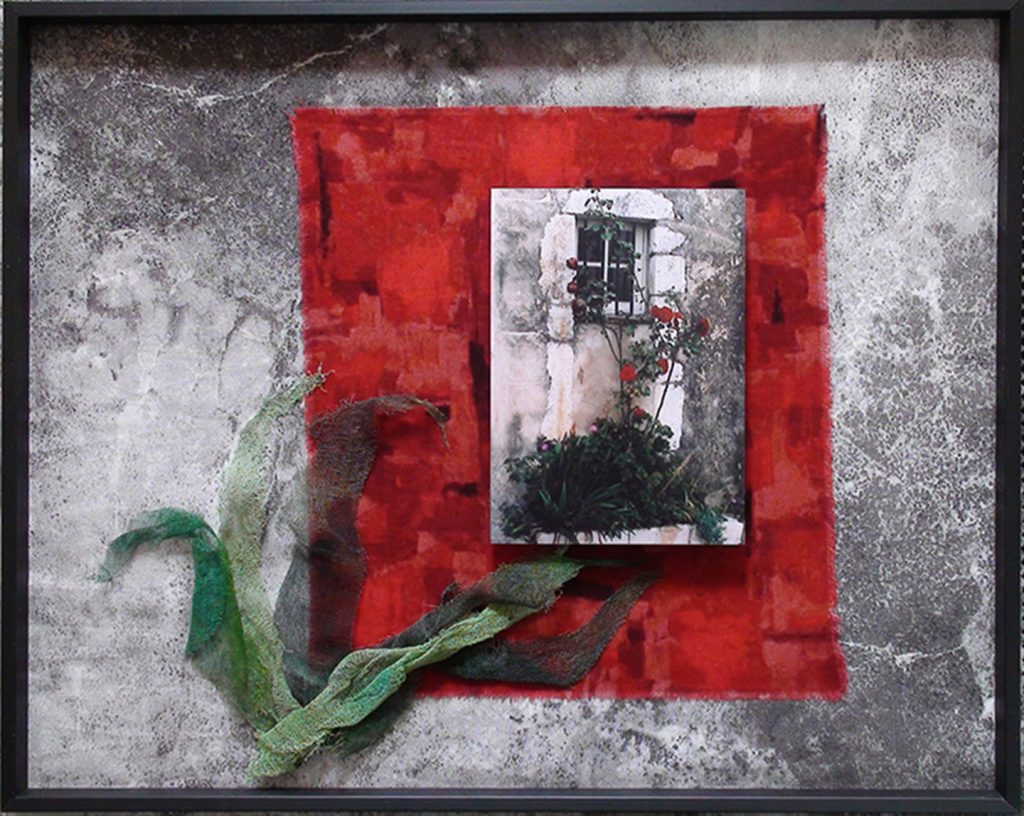 Two commercial fabrics and painted cheesecloth leaves make this the easiest and quickest design. the photo is actually about 3/4″ above the red fabric. The detail below shows the finished quilting, which also held the leaves on (they are squished from being in storage).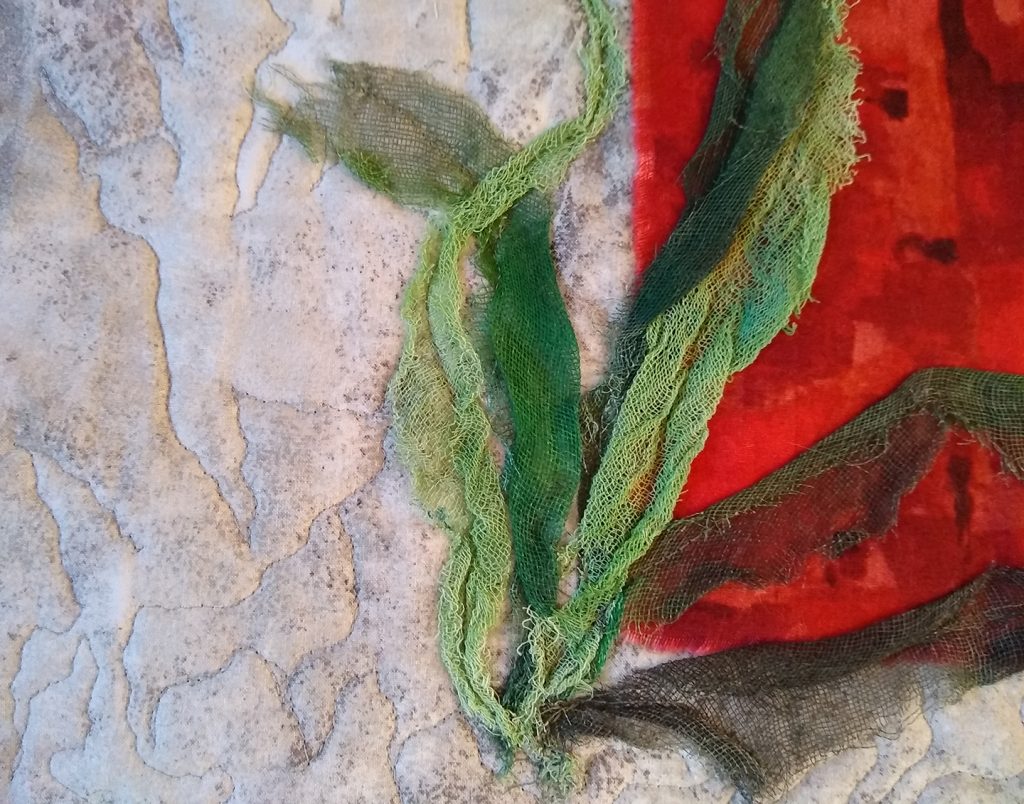 The piece below was a wip when photographed, using fabric where the frame would be. All of the fabrics are commercial, the roses and leaves have been "clever cut" (think fussy cut). Again, very easy, just more time consuming. I stitched the thorns using free motion quilting. I didn't quilt the rose heads but looking at it now I think they need it.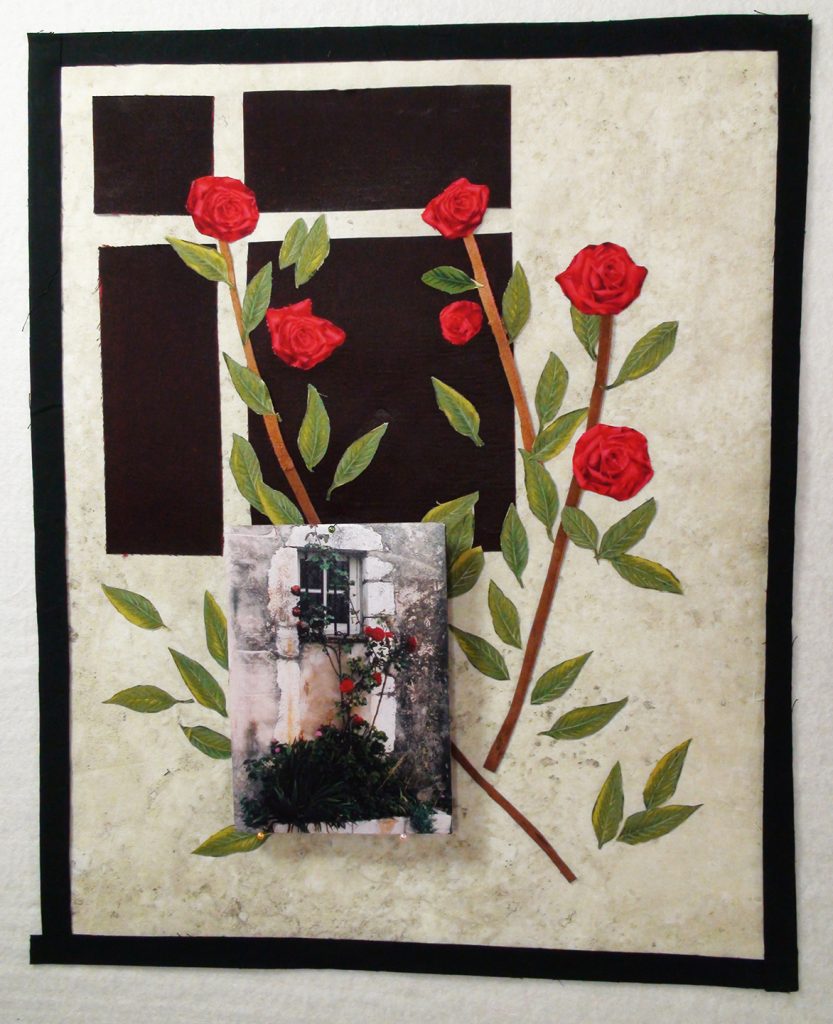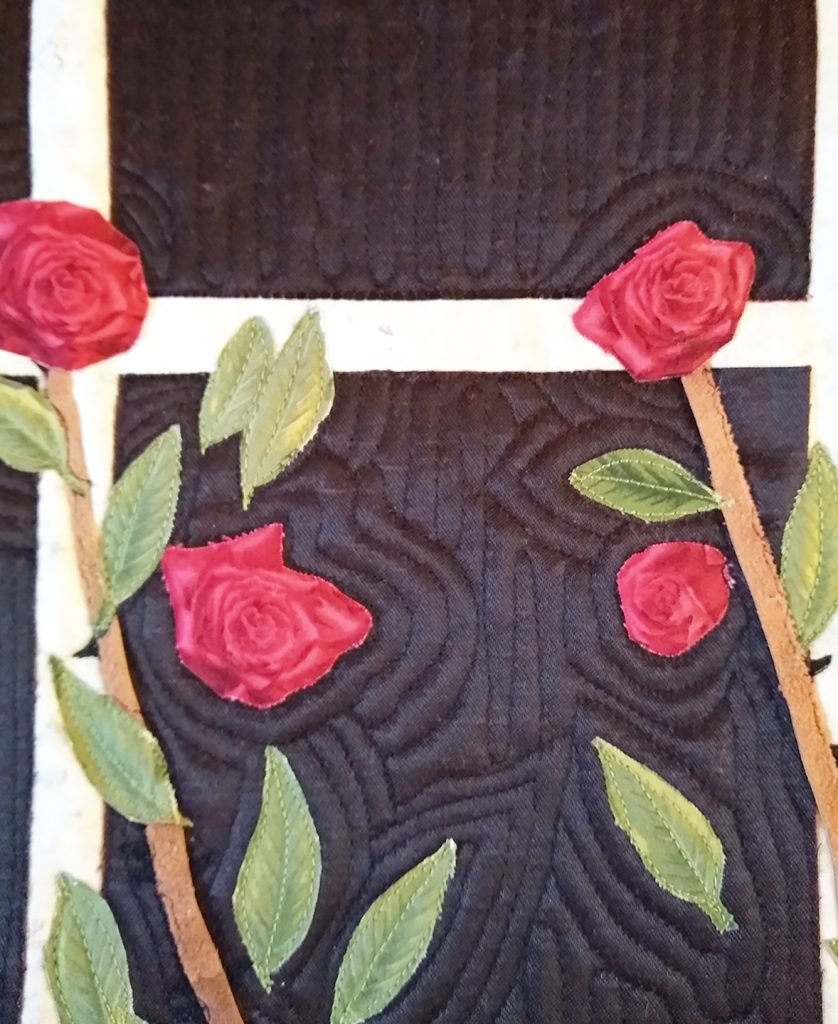 The final piece has roses and leaves that are made from eco-felt (sheets), the cut pieces have been burned around the edges. The stems are made from a grape vine wreath (soaked, straightened, dried, and stitched on). Nothing touches the glass. It also has commercial (Stonehenge by Northcott) fabrics that I've quilted.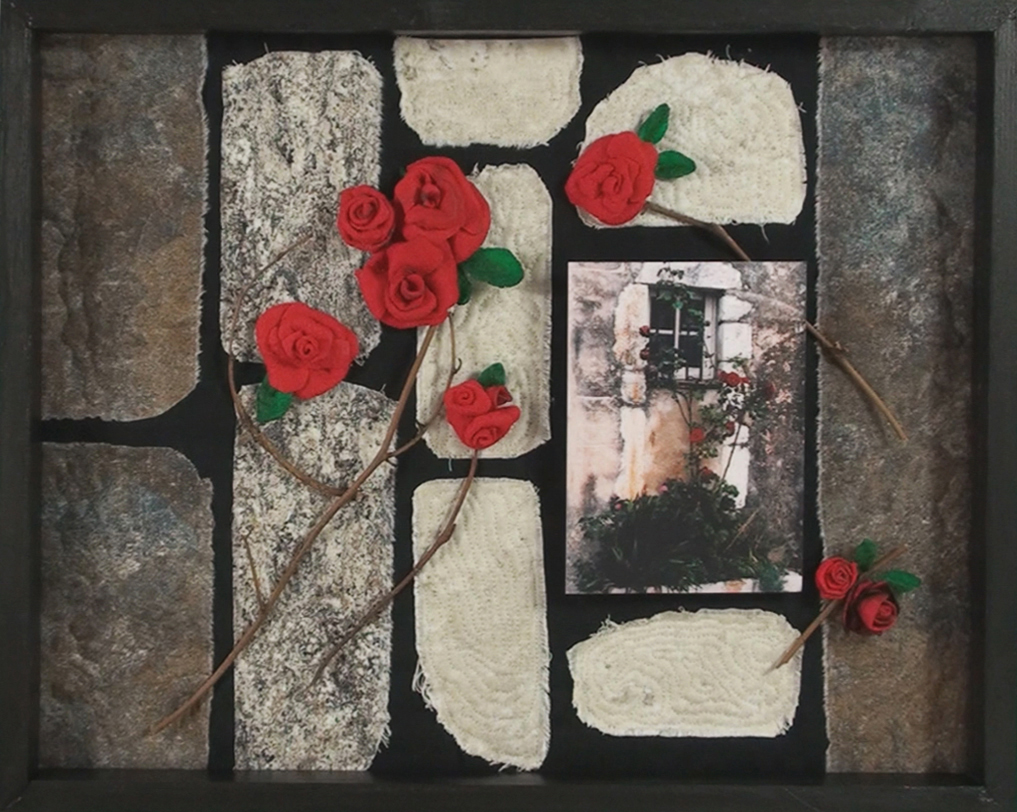 The detail photo was taken using my phone and the piece is behind glass, it's not very good but it shows a bit of the dimension and some of the burnt edges.
The Photograph on Fiber series photographs were applied to the plexi by me, using a special double sided film and a hand turn, cold roller laminator. After about nineteen pieces it got to be too stressful for me so I paid a professional company to apply the photographs, which of course, added to the cost/price. From inception to finish each piece involved many, many hours, and though I loved making them, (the plexiglass) Photograph on Fiber series had to come to an end. I'm very pleased that a few pieces are in private collections and some of the remaining pieces are for sale. Most of the pieces may be seen on my website under the Photograph on Fiber tab.
My son still send photos that make me want to keep going and making them definitely pushed me as an artist, but there is no more wall space in my home, and storing them a way seems a crime. Maybe some day I'll teach the framed version of Photographs on Fiber class live.
Have you used your photographs in your art/memory quilts or mixed media projects? If you have and would be willing, I'd love to share some of your photographs and fiber/fabric art, here on my blog. Just send me an email with a photo/s of the piece/s and a bit about them. If you have a blog or website be sure to include it so I can link to it. Please note the photos used in your art must be yours or used with permission.