Visions Art Museum had a Call for Entries with the theme First Responders. This exhibit will be online only and I haven't heard yet if my piece has been selected, I'm sharing it here.
I had many ideas but I got a late start so I went with the simplest one. It's only about 15″ square, which was doable for me even though I'm rusty. The first image I shared on my previous post, it is fused without the vessel. If you follow me on Instagram you may already know what the surprise vessel is.
I had the idea of using a mask for the vase/vessel long before the main design. In making the vessel I discovered that a (too) hot iron would melt the mask more than I had anticipated. Thankfully, I had it sandwiched between parchment paper. I actually like the "aged" look it gave the mask. I removed one ear strap and used the other as the bottom edge and feet. I used embroidery floss with a close blanket stitch around it for a bit more interest.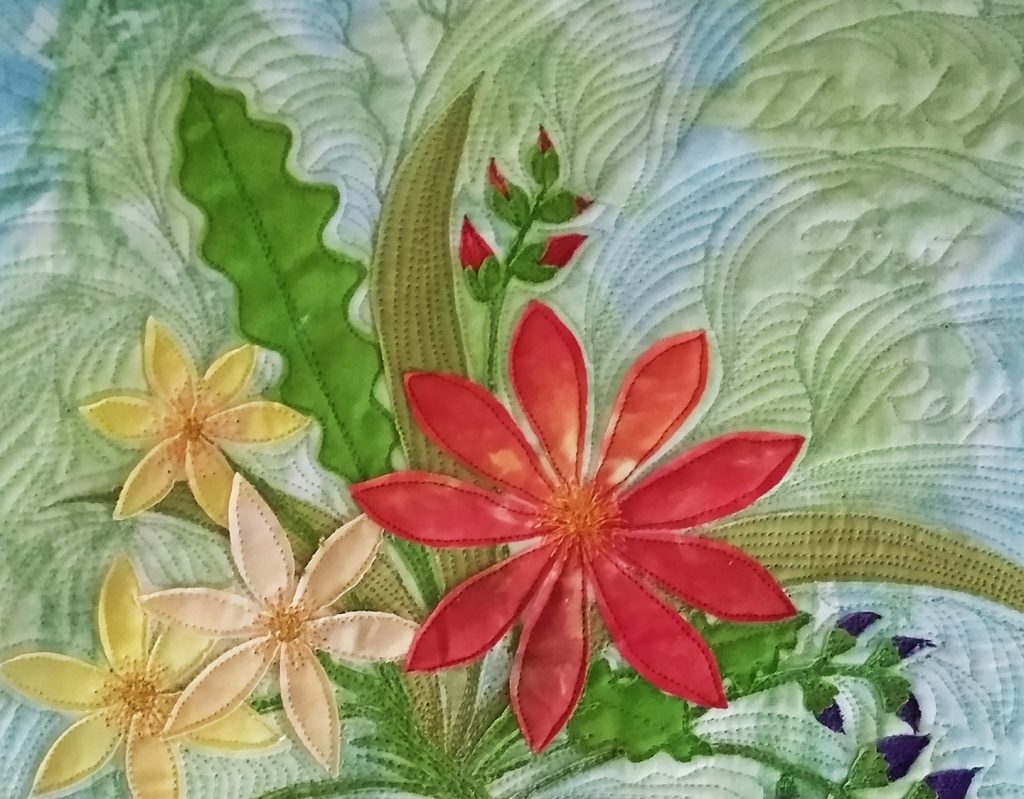 I free motion quilted/thread played, echoing the flowers and greens, and wrote "Thank you First Responders." The writing is subtle, I didn't want it to be the first thing the viewer noticed. I quilted green in the center of the yellow flowers later.
I make tiny double layered binding with butted corners, it's not fast but it is still my favorite way to finish any quilt. Knowing that my hand is not 100% yet I didn't want to try to stitch through my usual painted fabric so I used a softer, thinner fabric (white muslin, I think) and painted two pieces.
Another favorite thing is to "break" the binding where the quilt design has an obvious break – in this quilt it is between the table top and the main design. I got the fabric wet and used an old vinyl shower curtain under it. I laid and smoothed the fabric out and then painted it; one to contrast with the main area piece and the other to mostly match the wood-look table top. Then I crunched the wet fabrics lengthwise to give some added interest.
I rush dried this pieces, which means I let them be for a short time and then heat set before rinsing them out with water to remove any paint, then squeezed as much moisture out and ironed them completely dry. They really lightened up.
The vessel was stitched on after the binding was finished.
I always add side binding first then leave a one inch hang over on the top and bottom binding edges, which gets trimmed down. The already cut fabric pieces I painted were almost too short, so in this photo I was just checking by laying them in place… Machine stitched the side bindings first. I love those clips, they hold the binding for the hand stitching with no more pin stabs!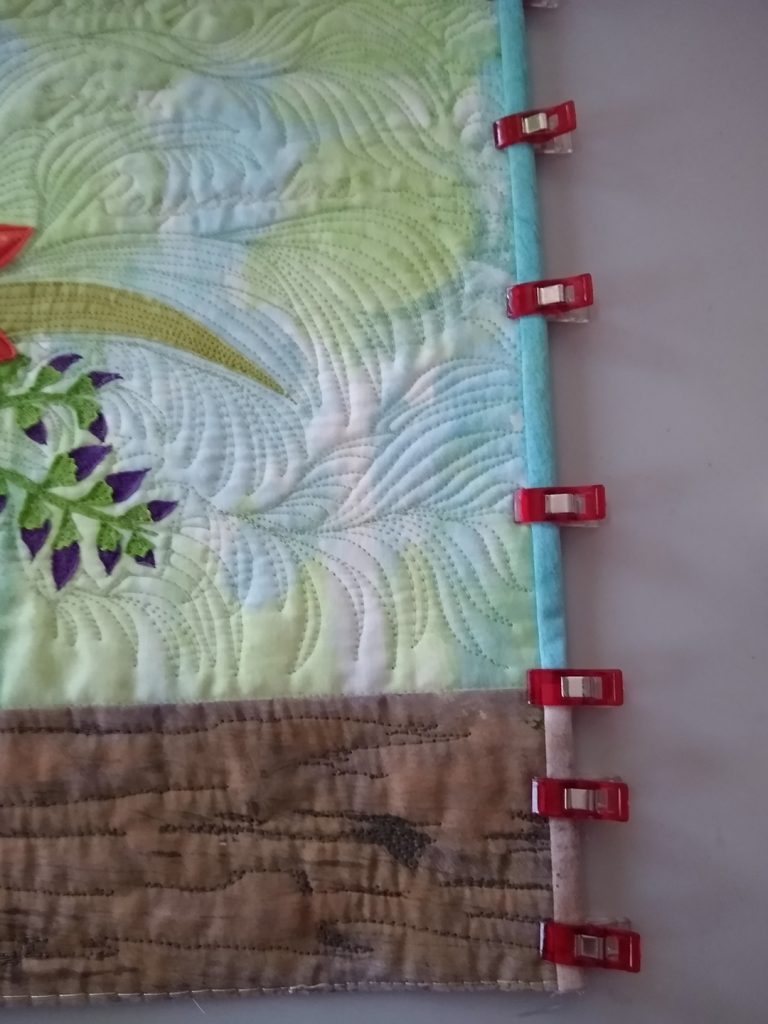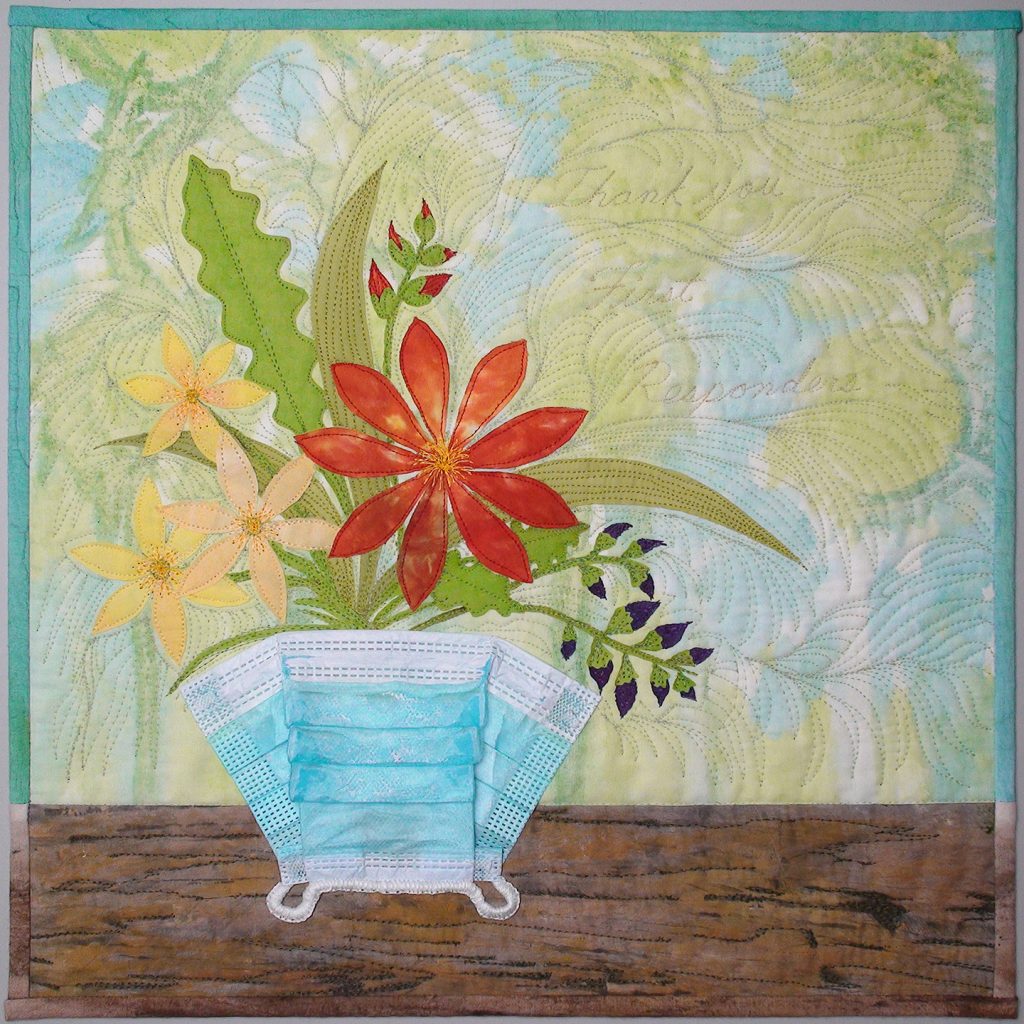 I'm please with the finished piece which I've titled – Mask for Them. The exhibit should be online beginning May 3, 2021, with or without my piece I'm sure it will be a great exhibit. VAM has wonderful online shows, events, and activities.
Thanks to those of you who entered for a chance to win the Painted Tree fabric… Congratulations to Karen G, you are the winner! Please email your mailing information.
I hope you'll stop by again for more fiber/mixed media art and a May giveaway.