I remember telling my son I wanted to use his photographs in my art quilts but I didn't mean printed on fabric; I meant the actually photograph. I know I'm not alone in wanting to use photographs in combination with fabric and fibers. In today's post I share a few from other artists and I thank them for granting me permission to share their work here.
If there is a quilt maker in a family there's a pretty good chance at least one memory quilt has been made that includes special photographs celebrating a person, a day, or an event.
Fellow quiltmaker Ruth O'Neil shared her bookshelf quilt top. It has a photograph printed on fabric of her brother along side her niece's daughters and books with titles (all but one) from a her niece's favorite author. The plant near the top has 3 dimensional leaves.
Ruth made the quilt below after a safari trip. I think the pattern and fabrics work really well with the photographs.
Ruth also shared this quilt. Her daughter gifted her fabric printed with these photographs and the blue batik. Ruth and her fur baby obviously are fans of this guy!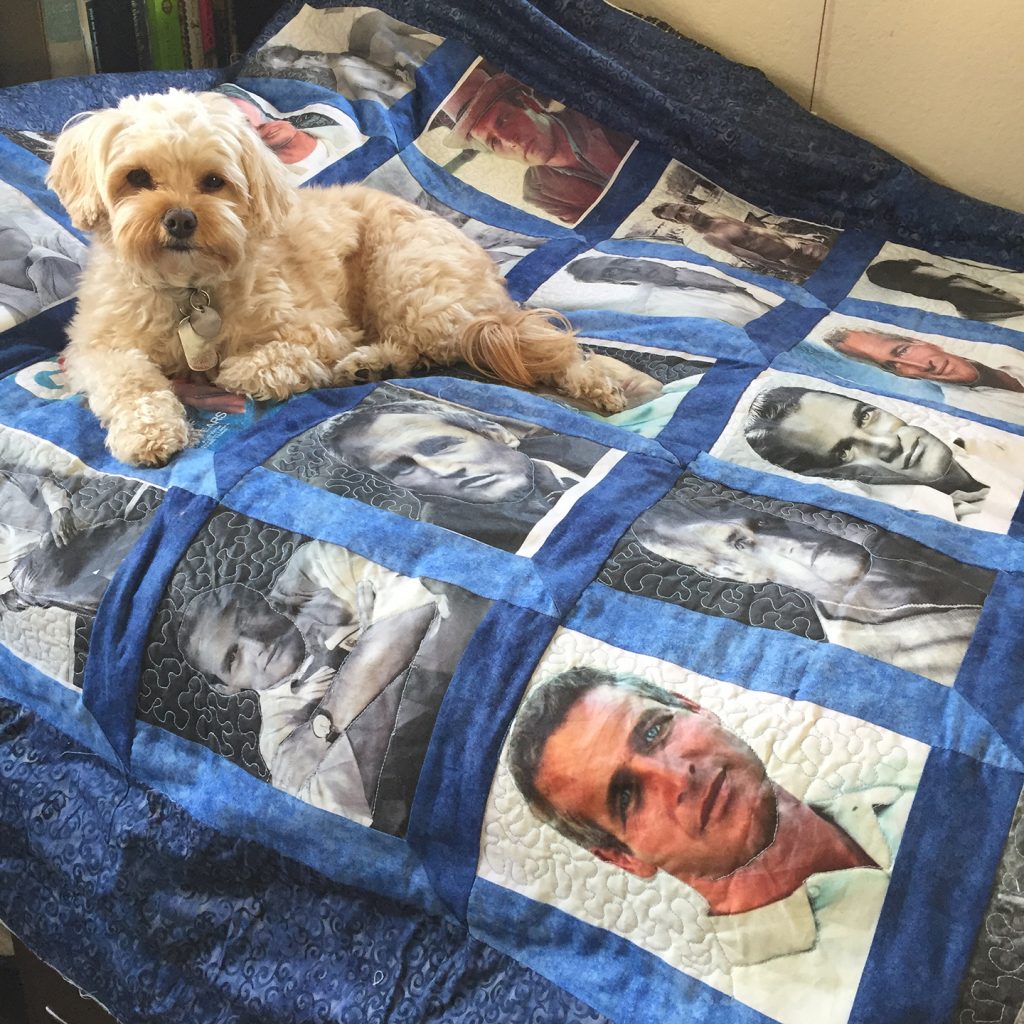 Susan Lenz is a prolific artist of unique work. Many of Susan's pieces include vintage photographs or her own, some she digitally alters before they are printed on paper or fabric. To the printed photos she will add stitches and embellishments… sometimes framing them because Susan is also a professional framer. Susan always posts excellent stories and explanations about her artwork and her travels, if you haven't already, I suggest checking out her website and blog, where the below images can be seen in greater detail.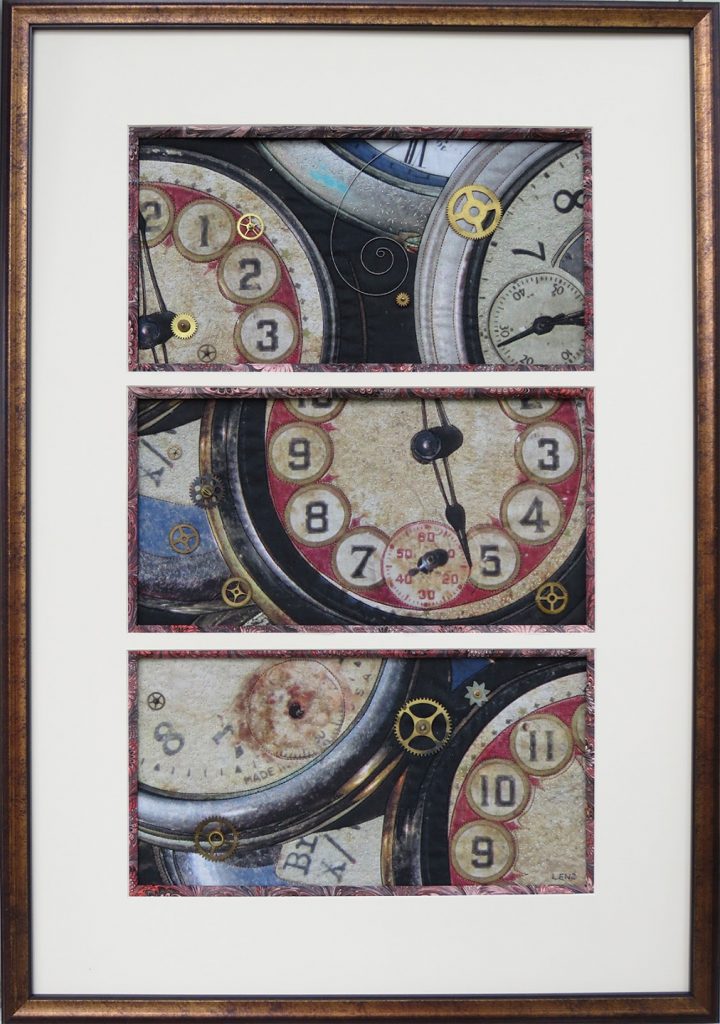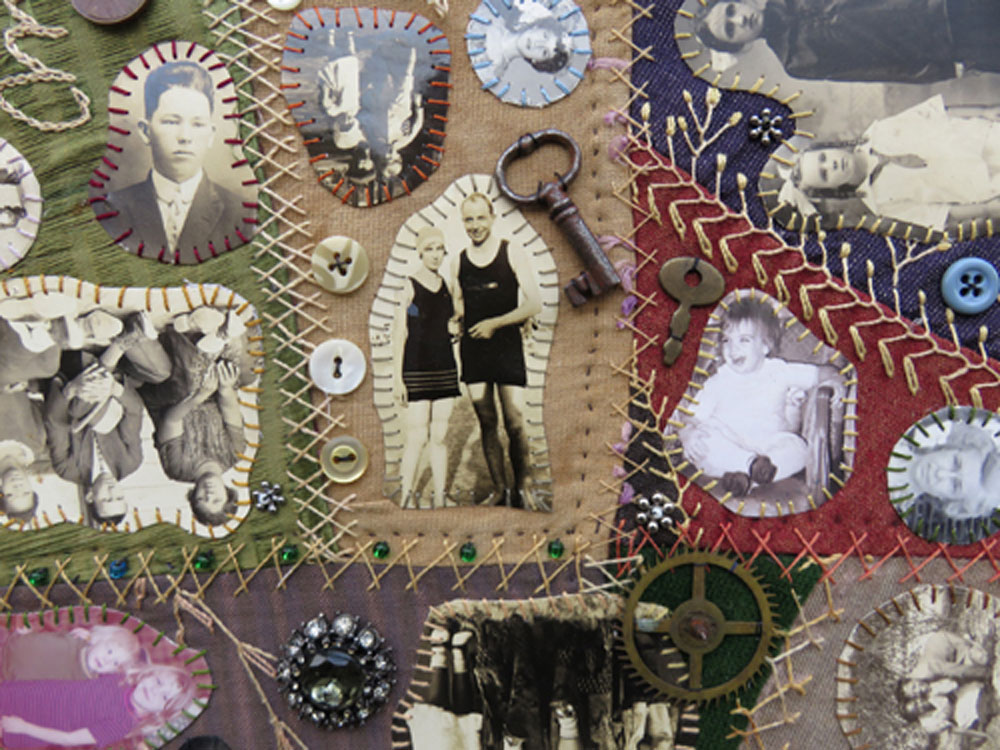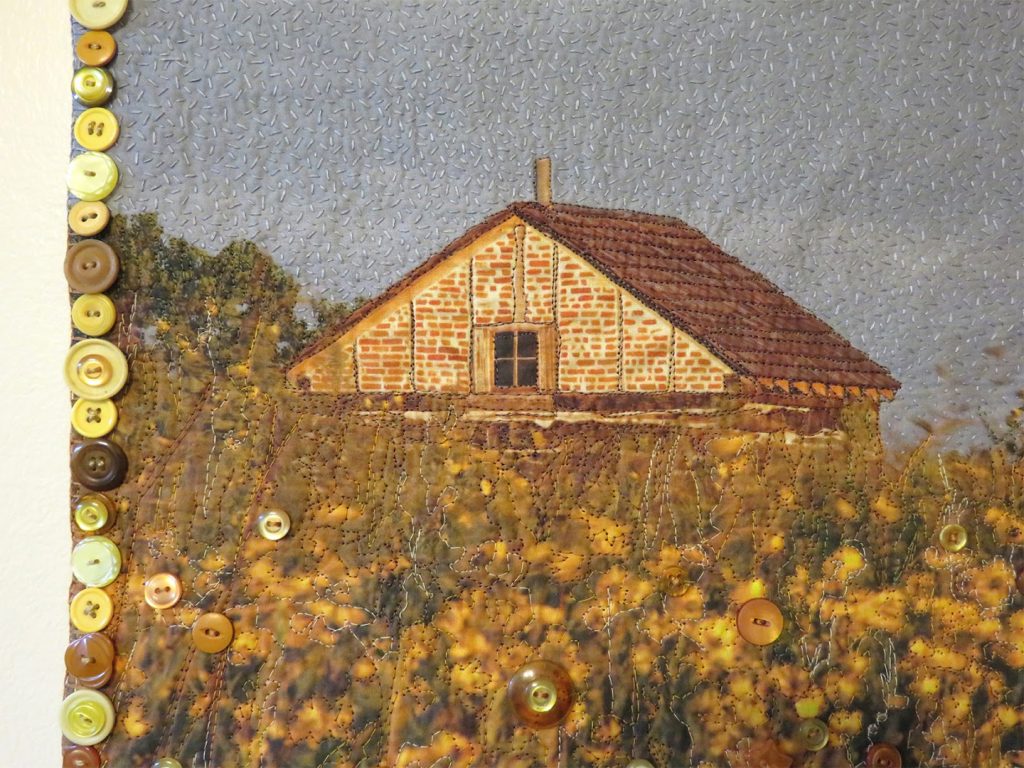 Joanna Mack aka The Snarky Quilter takes photographs that often capture textures, shadows, and light. She sometimes uses filters in photoshop software to alter her photos. Always learning as much as she can, Joanna explores and produces projects using a variety of techniques and methods.
I wish I could say that we collaborated but this piece is entirely hers. Joanna won a small, painted fabric landscape in one of my blog post giveaways. She started with a photograph she'd taken of a rusty textured (outdoor fireplace) barrel, altered it in Photoshop, had it printed on fabric, and later cut it into strips.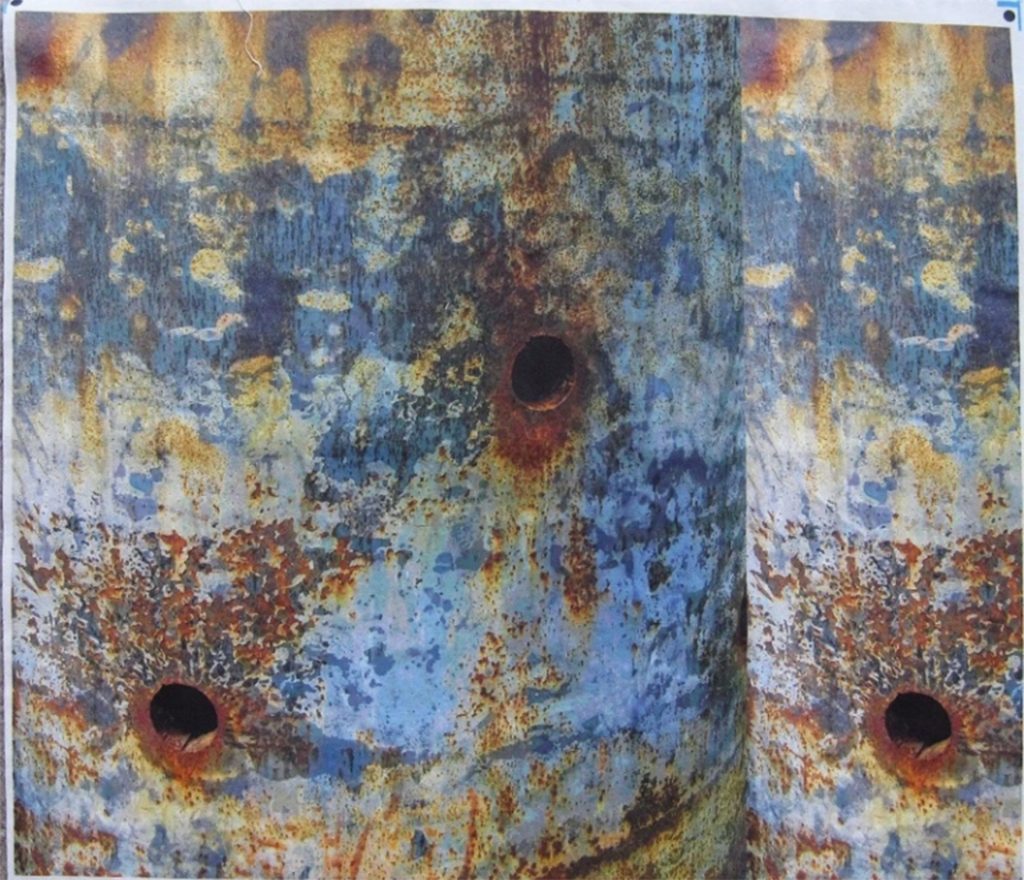 She cut the landscape fabric too and stitched it to her barrel pieces and then, as she writes on her blog; "I quilted it to resemble chain link fencing covered with the stems of weeds. The edges are finished with paint and yarn."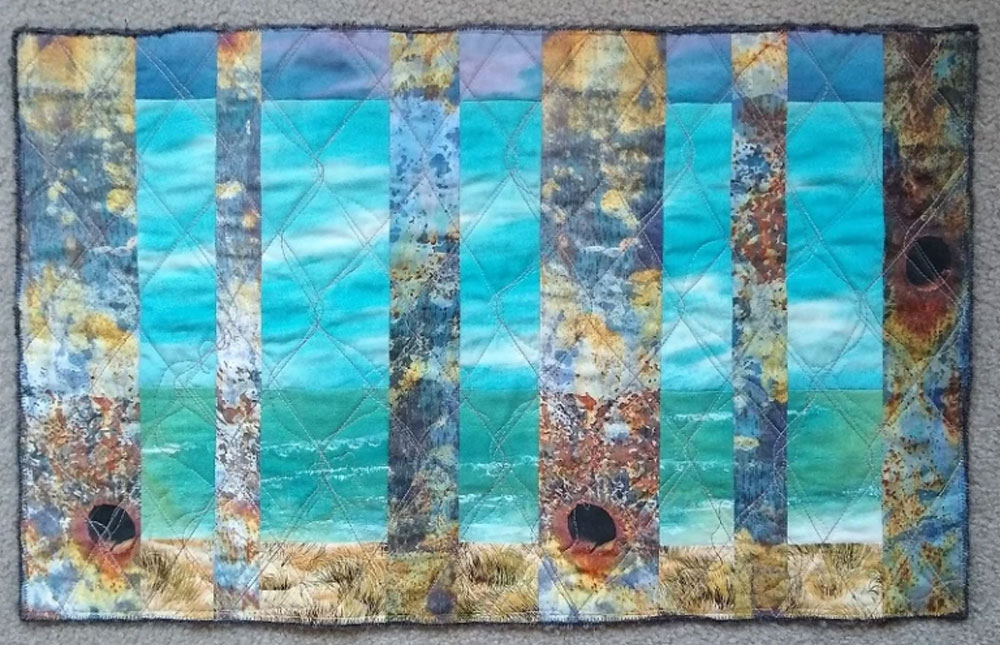 I appreciate that Joanna has had some of her photographs printed on different types of fabric and shares her thoughts about each one on her blog. To read more about "A Cell With A View" and see her other projects and be inspired, visit her blog.
Petra Heidrich is a textile and mixed media artist in Germany. She embellishes vintage photographs, postcards, and sometimes paper, using thread and floss. Petra's embroidery layer draws me in, and then I look past it and notice the photograph. I think the embroidery stitches and photographs play and work very well together.
On her website, Petra writes – "I like to refer to embroidery as "painting with thread."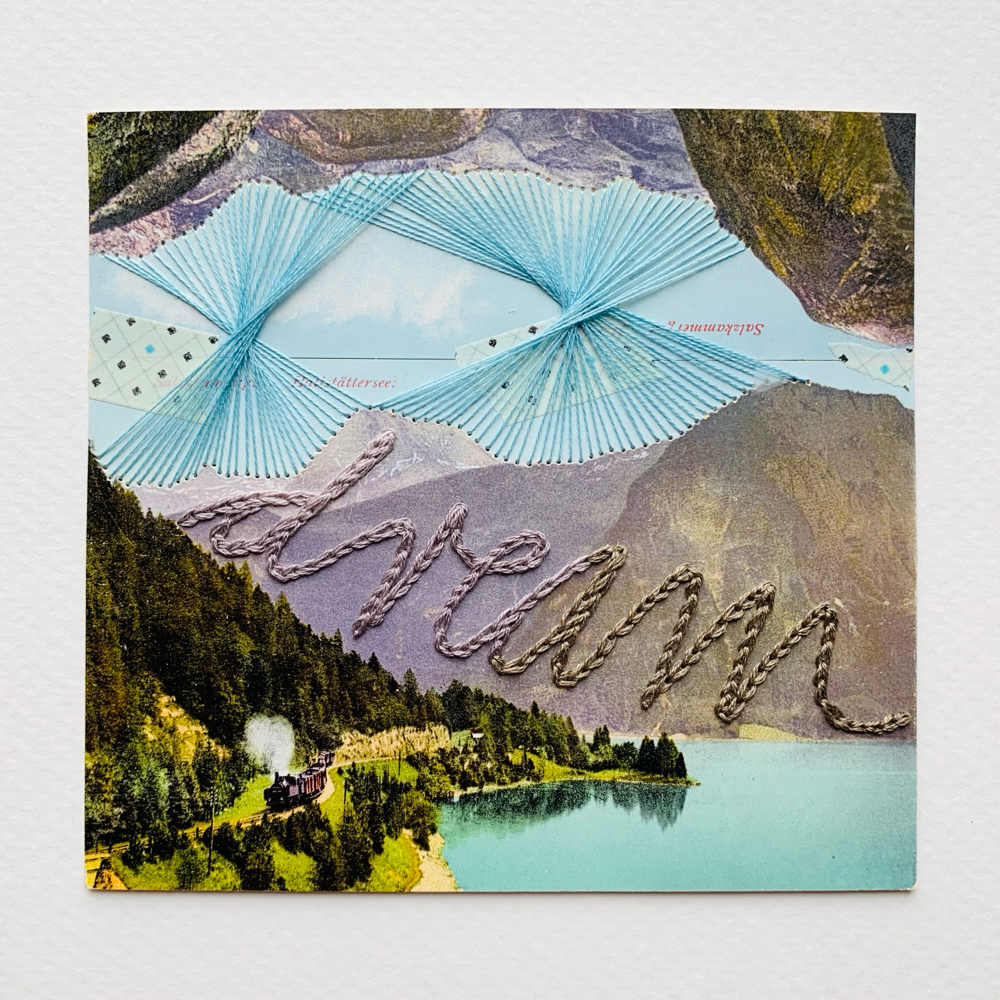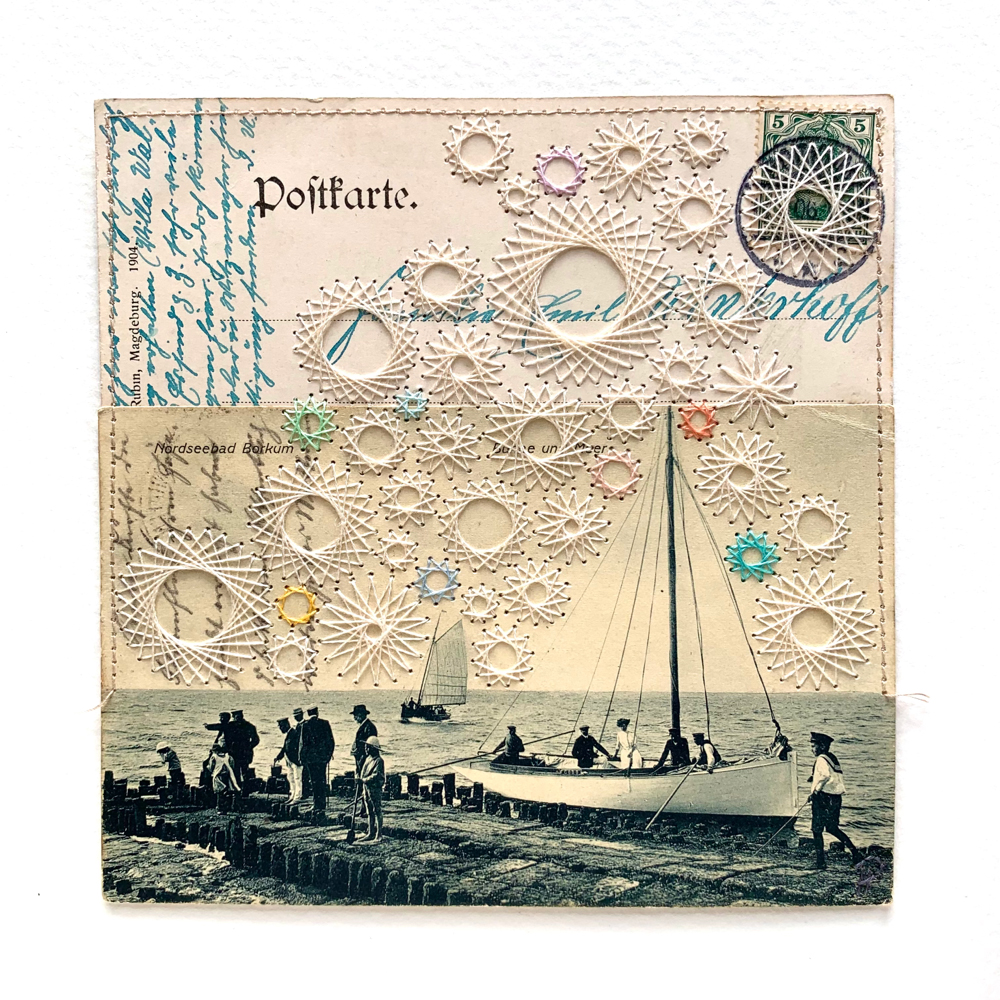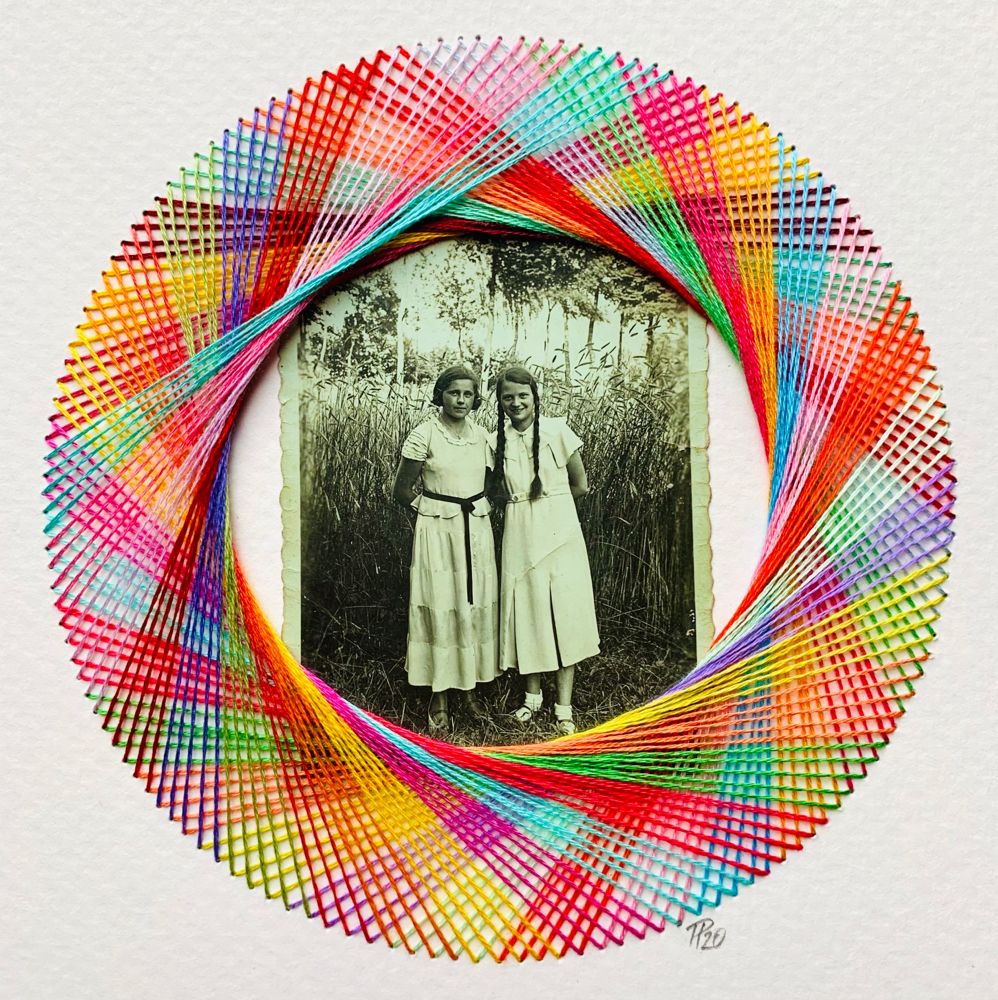 I recently rediscovered a box of postcards I'd gotten years ago from my parent's estate. In the box I found a postcard that just called to be made into a photograph on fiber piece. I contacted the photographer, Bill Banaszewski, to ask for permission. So that he'd have some idea of what I had planned I attached two images from my Photograph on Fiber series. Not only did he give me permission to use his photograph but he also wrote that his wife is a quilter!
In my original Photograph on Fiber series pieces I mounted the photo under/onto plexiglass, I don't use it anymore, otherwise the process is essentially the same. My landscape is mounted onto a acid-free board for hanging and for this piece I slightly edited a scanned and printed copy of the postcard's back to use as the label.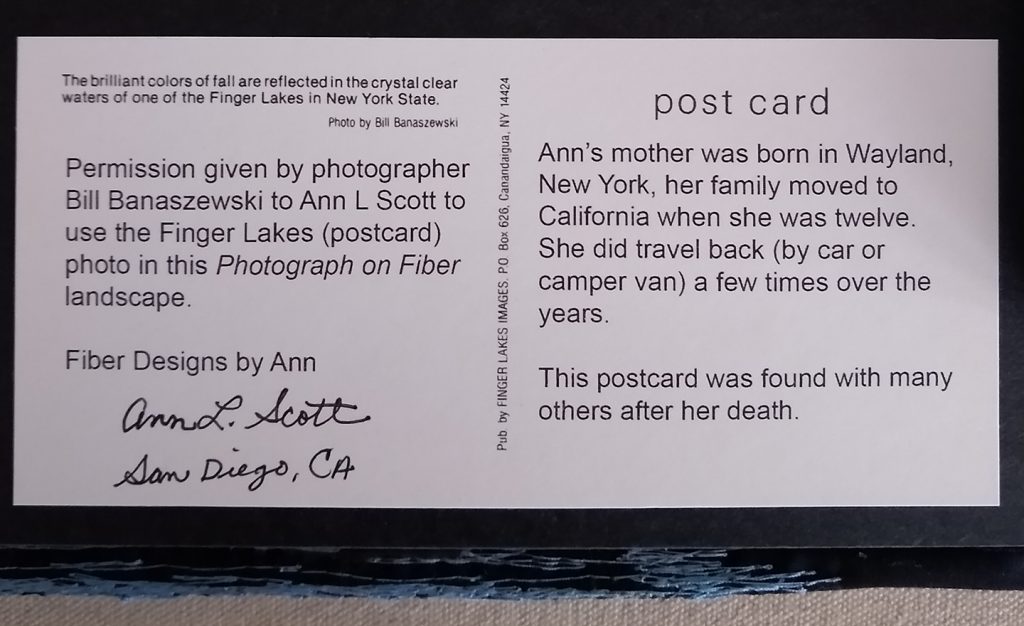 Bill has been photographing New York's Finger Lakes for years. To see his photographs and learn more go to Finger Lakes Images.
The photograph, in this piece a postcard, is mounted about 3/4″ (not quite 2 cm) above the art quilt.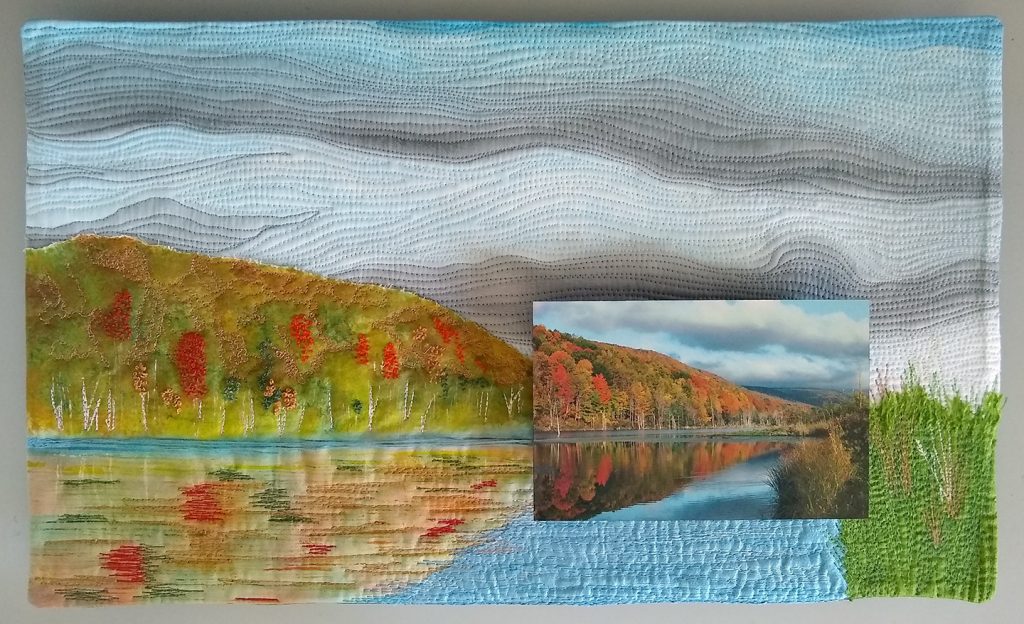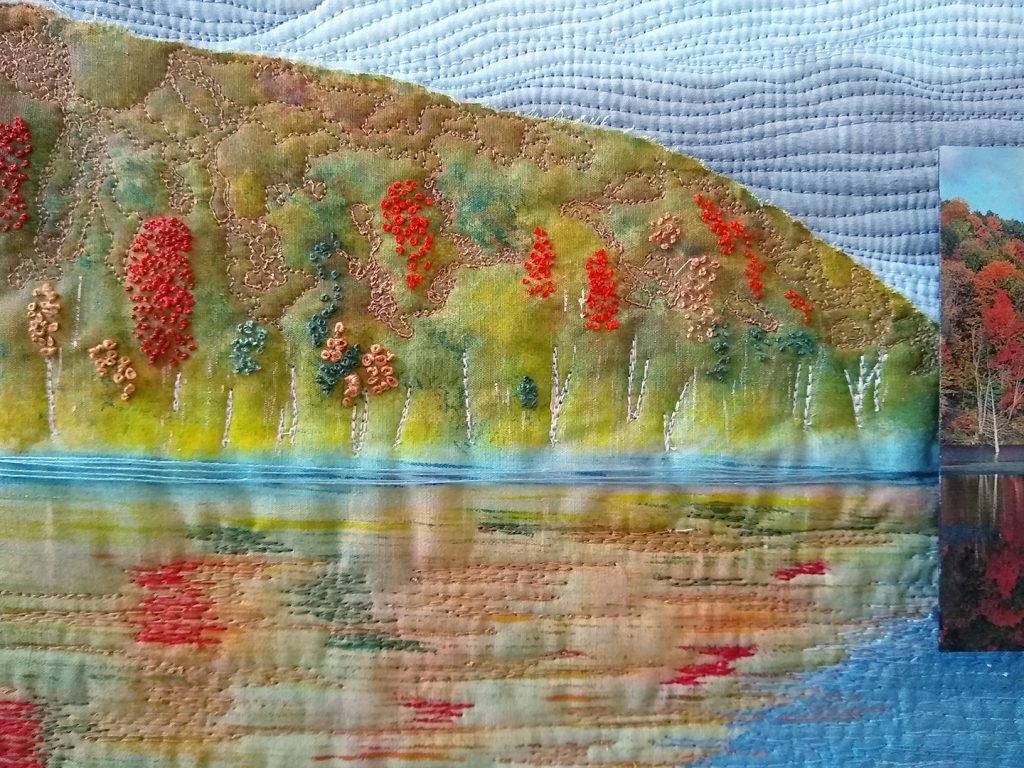 I hope the pieces in this post have inspired you as much as they have me.
Until next time, thanks for stopping by.