I was thinking about making some winter cards so I was playing, with sun-printing (again) using leatherleaf ferns and Setasilk and then painting with Neo Color wax pastels. The first three are from the same large piece, I'm floating a card stock "window" over it to find an area I like.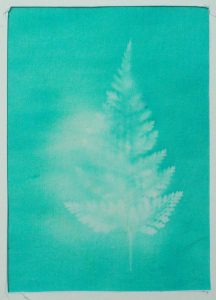 I'm not sure where I'm going with those but I know the Neo Color pastel poinsettia is crying for some thread play. The pine cone was really an experiment and it's just okay. I may have to fix the stem because the branch looks like a stem shadow (more pine needles?). I should have done a wash around it too; I don't like the white area on the right. Maybe that would be a place for some white (tone on tone) embroidery or maybe free motion quilting.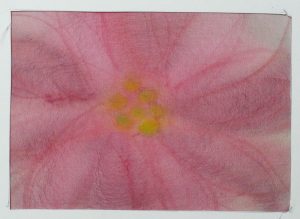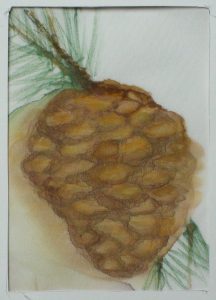 And below is a poinsettia card I made for my aunt. I posted a card similar to this in the past but this one is a little different in that the leave/petals hang beyond the edge. I like this one better and I think my fabric quilled beads with French Knots make the perfect flowers.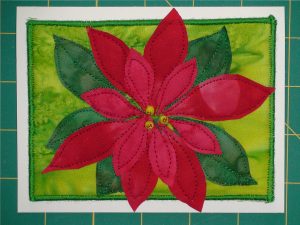 As I was writing this post my daughter gave a little holler saying "Sky!" and if you know anything about my family you know that is the signal to go upstairs and out on our bedroom deck. It was to see this…
Always makes me want to paint fabric!