Last month while listening to a podcast at While She Naps with Abby Glassenberg, I learned that Abby would be giving her listeners an opportunity "to recommend great stuff you're enjoying right now." Listeners could record a message on the While She Naps website (technology – so cool!) and on Dec. 4th the podcast aired. To my surprise I was one of the people selected for inclusion in the podcast. I talked about Barb Owen, owner of How To Get Creative, who is someone I find inspirational and encouraging. Barb is a multi-talented artist and author who produces fun projects video on YouTube and offers special membership classes on her website.
Abby was joined by guest co-host, Stacey Trock, and the entire podcast was filled with great ideas from suggested reading, tools and notions, websites, blogs… I could go on but instead I'll encourage you to check While She Naps out for yourself.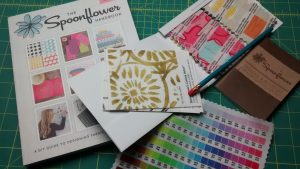 During the podcast Abby drew three names to receive prizes and I was one of them! My prize arrive a couple days ago and as you can see by the photo, the prize was a" Welcome pack" from Spoonflower. I have used Spoonflower for fabric printing in the past and I'm looking forward to again (included in the prize – Spoondollar credits).
It was so nice to be able to contribute to Abby's Community Episode podcast and exciting to have won a prize on top of that! Abby's entire website is a great resource for anyone interested in sewing, quilting, and so more more.