I figured out this very fast way to make and cut a stencil using my sewing machine.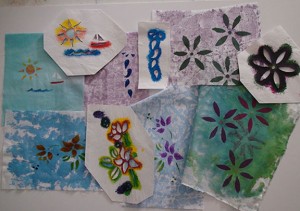 Then using textile or acrylic paints to make a print on fabric. Maybe you have a quilt with solid alternate blocks, this could be a fun way to add a bit more to those blocks and something more to quilt around. I hope you'll watch the video and comment.
Fast cut stencils and fabric prints
Next I think I'll try using these stencils ( and the pieces that are removed) on my Gelli Arts Print Plate!