Still waiting for Fall after the 90° Thanksgiving and realizing December is almost here!
This turkey was created for my grandnieces (7 and 6) who had a good time coloring them during our Thanksgiving family gathering.
I gave them each a plain turkey sheet along with one with this MeAnndered turkey below. It was interesting to me that they both (on their own) selected the plain one to color-in. These are very active little people and it warmed this great-aunt's heart that they wanted to sit and color on them at all! I hope you had a nice Thanksgiving, ours was wonderful.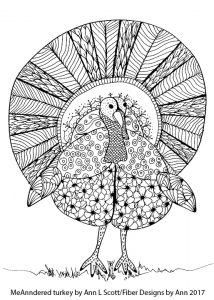 Printable versions of these turkeys are available on my Patterns tab here on my blog.