I have been a follower of a wonderful blog, I have mentioned in the past, And Then We Set It On Fire… Today it was announced that the contributors will no longer be posting new posts. I'm sad but totally understand. I will miss the inspiration and great techniques that have been shared by the many artists over the years. The site will be up for now and at least through June, so if you aren't familiar with it I hope you will go check it out and from there you may find links to the individual artists and much more inspiration and eye candy.
My own blogging has been sporadic to say the least! There are personal reasons and reasons I'll blame of the political climate. I appreciate you stopping by and I hope you enjoy what I have to say but mostly the fiber art I share. Thank you!
Here is my most recent piece…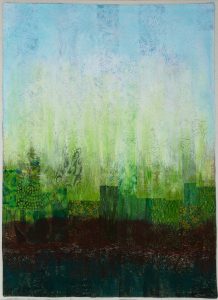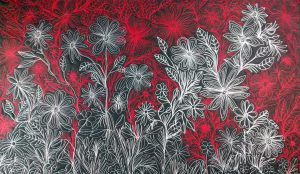 I painted over the raw edged patchwork and quilting and was pleasantly surprised that some of the fabric print showed through; it added another visual layer. This piece didn't make it to where I had hoped but I really like it. I may offer it for sale at the San Diego Quilt Show in the Quilt Sales booth, where I'll be chairperson again.