I was happy to learn that the fabric I submitted for the Quilting Art Fabric Challenge/Swap was published in their Dec 2016/Jan2017 magazine. They didn't publish all of the submissions but I was impression by the variety and would love to be able to ask many of the artists how exactly they achieved their results.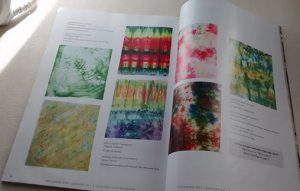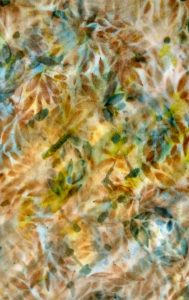 The way the challenge worked was for readers to create a fat quarter of fabric with original surface designs, submit it, and then they would receive a fat quarter made by another entrant. For more information see that QA link above.
I was so excited when I received a fat quarter created by Susan Price. Susan along with her business partner, Elizabeth, create original and custom Thermofax screens and sell their designs on Etsy at – PGFiber2art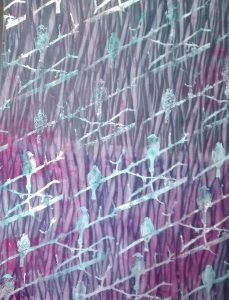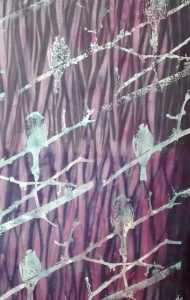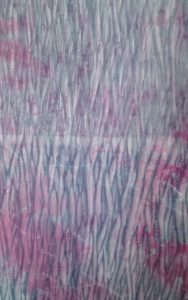 Susan explained that the fabric I received was snow dyed, pole-wrapped (Shibori) and then thermofax screen printed using her original photo called Birds on a Branch. I think it is beautiful! Thank you, Susan.
A short time after I received Susan's fabric I received a "thank you" email from Pat Robertson, who was the recipient of my challenge fabric. As I looked through the magazine again, I discovered that the fabric Pat submitted was also published so I asked Pat to send me photos of her fabric. Pat was kind enough to also send photos of her process too. The steps are – Pre-treated fabric, snow pile, dye applied, processing, fabric accepting the dye, rinse, and beautiful results! Thank you, Pat.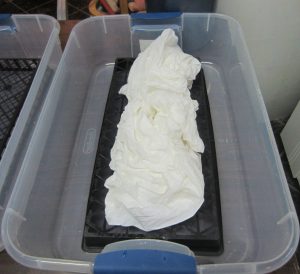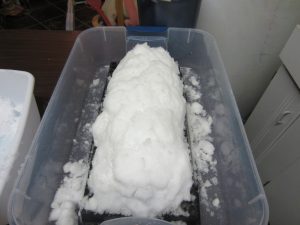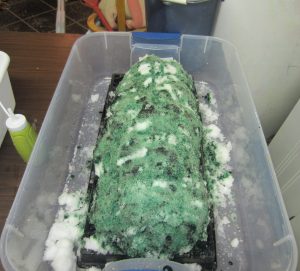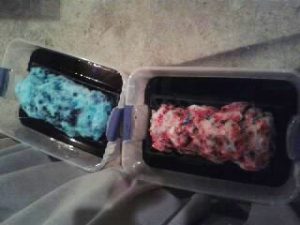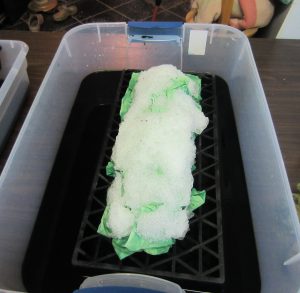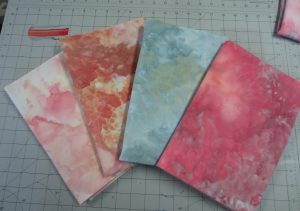 So you can see what wonderful results may come from playing with (and working) surface designs. I hope you will give it a try and if you do please share your results!