I'm happy to say that pieces from my Photograph on Fiber series will be one of the Special Exhibits at the 2016 San Diego Quilt Show. That link has all the information about the show.
If you don't already know, these pieces began as a collaboration with my son whose photograph of a lone leaf inspired my fiber art. I figured out a way to incorporate the actual photograph and my fiber art quilt into one work of art. Some of the more recent pieces have been inspired by and include the work of other photographers (Always used with permission) and in one case* the photo was taken by me (*Gathering Evidence).
The original construction which included, in part; adhering the photograph to the acrylic sheet and drilling the holes, got to be too much for me. More recently I have had the photographs mounted to the acrylic and holes drilled professionally (a company I would highly recommend – ArtisanHD)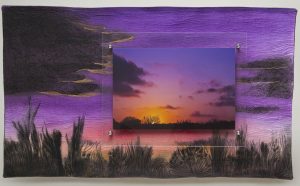 Working on this series has allowed me to paint and stitch fabric & fiber and stretch as an artist and designer and of course, exhibit my artwork. I developed an easier version and teach that as a course online at Curious.com , where you'll find more of my lessons, as well as lessons and courses on just about anything you may be curious about.
So if you are in the San Diego, California area August 31 – Sept 3, 2016, treat yourself to a colorful few days of quilts, fiber art, classes, and much more! I'm Chairperson for the Quilt Sales booth so stop by and say "Hi" and be wowed by the wonderful quilts.
Quilting Away,
A