A couple weeks ago I was working on a new Heart MeAnndering video. When I finished stitching I wasn't happy with one of the petals, so I ripped it out, fixed it and added some French knots. Then before editing I discovered that at some point during filming I must have left the camera on (went to fix dinner or something), thinking I had turned it off. So when I started stitching again I actually turned the camera off! Yes, there is a screen that shows if the camera is recording or not and yes, I have been accused, on more than one occasion, of not looking to make sure. Needless to say there's no video.
If that wasn't disheartening enough, when I went to press the very white background fabric I neglected to use protection and my not so clean iron left discolored marks!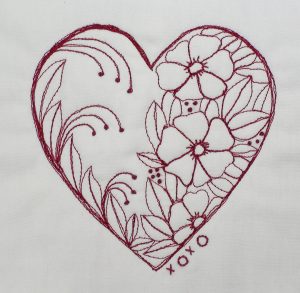 Maybe I should have just given up there but no; I had that much into the darn thing, I just couldn't. I mixed up some textile paint and painted the fabric surrounding the heart and of course while doing that I accidentally splattered paint ON THE HEART! So I had to add more splatters to make it look intentional, right? It's still bugging me but I'll give this heart to a loved one and she'll probably frame it. As often happens when things go awry – lessons were learned along the way!